By Ste Tough (@SteTough)
What's the opposite of sunny? Just bleak, dark, cold rain. That is probably about right.
After the Eagles won the Super Bowl in February 2018, the future couldn't have been brighter. They had finally delivered a Vince Lombardi trophy to the City of Brotherly Love. They had a relatively young coach in Doug Pederson, who had already shown he had the calibre and mindset to make it at the very top. GM Howie Roseman had masterminded the 2017 cap situation to produce a team full of talent and nailed pretty much all of the free-agent signings that year. Lastly, they also had a young QB in Carson Wentz who had his future laid out in front of him (just so long as he could get over that minor issue of an ACL tear) as well as a back-up in Nick Foles who had proven to be the best in the league.
Colin Cowherd, the outspoken sports pundit, named the birds as the next big dynasty in the NFL after their Super Bowl win. His theory was that to succeed in the the NFL, you need to have a good owner, GM, HC and QB. That seems like a long time ago now, with questions about three of the four men in those positions.
Fast forward to December 2020: the Eagles sit at 3-7-1. Their only wins have come against Ben DiNucci, Nick Mullens and Daniel Jones. Their tie came against a very poor Cincinnati team. The offensive unit has struggled to get any sort of momentum at all and they remain the one of only two teams in the NFL (along with the Jets) not to have scored 30 points in a single game.
So what has gone wrong?
---
Carson Wentz
---
Let's put all the cards on the table. Carson Wentz is playing incredibly poorly; that fact is unavoidable. His completion percentage is down, his wins are down and TDs are down and all the wrong metrics (sacks, INTs, fumbles, turnovers and incompletions) are up. He looks shot of confidence in the pocket and is frequently missing what most would consider 'easy' completions to receivers that are wide open. He is regularly holding on to the ball for too long and is being sacked or turning the ball over as a result. Wentz looks a shadow of the player that dragged Philly to four consecutive wins at the end of last season to put them into the post-season. His mechanics, accuracy and ultimately confidence all look broken.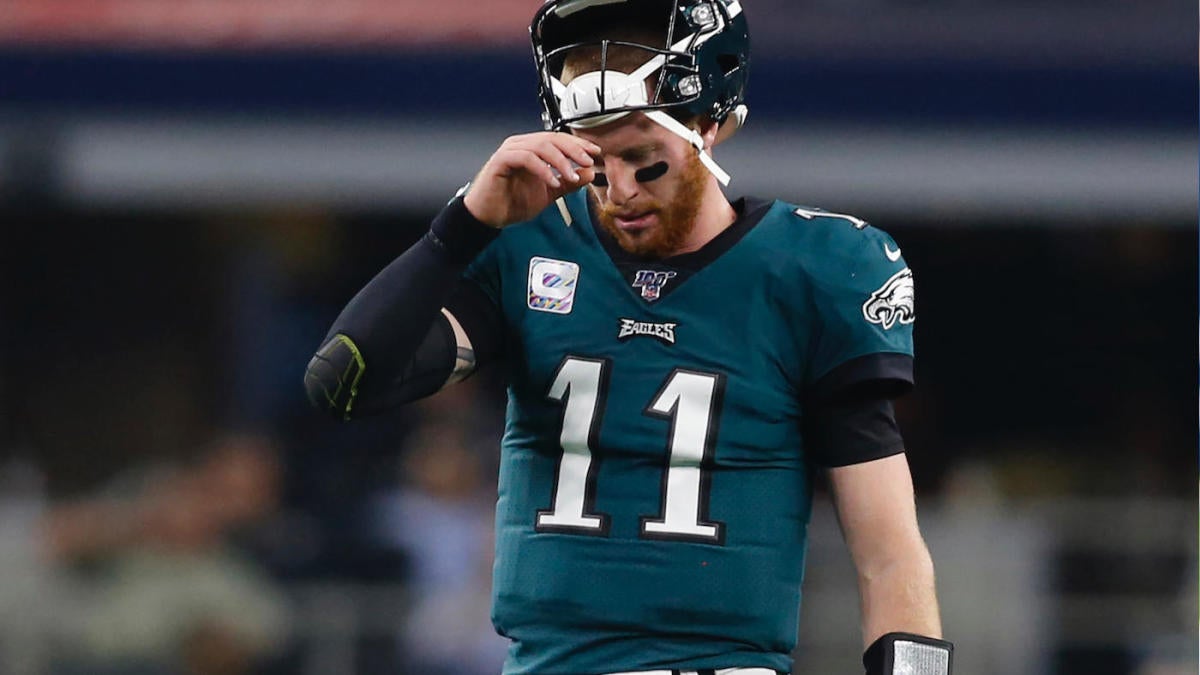 However, I cannot put all of the blame on Carson here. He's having a tough year for sure, but he had been trending upward every year since his rookie season in most metrics (passer rating, completion percentage and passing yards per game all increased year on year until his contract extension). Then last season, with the injuries and deckchairs that Wentz ended up throwing to, he set the franchise record for passing yards (4,039) and completions (388) in the regular season. He also became the first Eagles QB in history to throw at least one TD in each of the team's 16 regular-season games. That doesn't just disappear. There is a quality player in there somewhere…
---
Offensive line
---
I think this is where most of the on-the-field issues with Philadelphia lie. Right off the bat, they were faced with the loss of Pro-Bowler RG Brandon Brooks, one of the best in the league, to another Achilles tear. Heir to the Jason Peters LT throne Andrew Dillard, drafted with their first-round pick in 2019, was also out for the season before taking a snap with a bicep tear. Along the line, they have also faced injuries to Jason Peters, Lane Johnson and Isaac Seumalo at stages across the season (with all three of them spending time on IR and Johnson now also out for the season). Through 11 games of the 2020 season, Philadelphia has had 10 (TEN!) different starting O-line groups. That is a monumental amount of shifting along a line that is supposed to provide stability to the QB.
Jason Peters is also no longer an NFL quality player. Don't get me wrong: with the career he has had, Peters is without doubt a future Hall of Famer but the ship has long sailed. Bringing him back has proven to be a huge mistake and I am glad to see Mailata getting snaps at LT now.
To put that into context, Wentz has been pressured 132 times this season, which leads the NFL among QBs. He's been sacked 46 times, hit 38 times and has a pressure percentage when dropping back of 26.8% (5th in the NFL). That means that every time he drops back, he has been pressured more than one in four times. Against Seattle, he was under pressure for 58% of the snaps. That is a defensive front scheming against a poor offensive line and taking advantage of the QB holding onto the ball. Wentz has also thrown the ball away a league-leading 19 times, showing that he's often left with no choice than to get rid of the rock.
---
Wide receivers, tight ends and running backs
---
We'll come onto ridiculous contracts and players that shouldn't still be on the roster, but Wentz has yet again been dealt a rough hand. When he is being pressured as much as he is and being forced to get the ball out in tight scenarios, not having trust in young, unproven pass-catchers to make challenging catches isn't out of the ordinary. It takes time to build rapport with rookies and new guys, Wentz hasn't been afforded much time to do that. Reagor, Hightower and Watkins are all rookies that Wentz had limited time in pre-season to get on the same page with, especially given the circumstances of this pre-season. The guys he usually goes to have been schemed out of games or just haven't been productive enough themselves (Zach Ertz and Miles Sanders in the passing game). Philadelphia receivers have dropped 23 passes this year, and you'd imagine even just a few of those would have changed the outcomes of some games.
Yet again, injuries is the main theme. DeSean Jackson and Alshon Jeffery have played in a combined seven games so far this season out of 22. It is ridiculous that either of them are still on the roster and I imagine that this summer will see them both depart from Philadelphia. Ertz, Reagor and Goedert have also spent time on Injured Reserve, leaving Carson Wentz with a lack of options down field for yet another season. When players like DeAndre Hopkins, Stefon Diggs and Robby Anderson were all available at some point during the off-season or earlier this season, it begs the question of how productive Philadelphia's passing game would be if they had a true WR1.
---
Coaching
---
There's been a lot said about Doug Pederson, his tenure in Philadelphia and whether or not he will be at the helm in 2021. Personally, I don't think Doug is primarily to blame for the mess the Eagles find themselves in, but that isn't to say he is totally blameless. With his 5th-year QB struggling, you would think a disciple of the Andy Reid coaching tree would be able to scheme some simplistic offensive plays and looks to get his confidence back. After all, Reid is one of the best in the game when it comes to offensive scheming and Pederson certainly showed his calibre in the Super Bowl-winning season. For example, Seattle had the worst pass defence in the league going into Monday Night Football and the birds only managed 215 yards and 2 TDs (largely boosted by the worthless Hail Mary at the end of the game).
In the offseason, rather than hire an experienced Offensive Coordinator like the one they had in Frank Reich in 2017, Pederson brought in a series of offensive minds and none of them appear to have paid off. I'm not really sure what Rich Scangarello does, but it sure isn't helping the Eagles win. Press Taylor is also now the QBs coach and, at only 32 years old, you have to ask what impact he is having on Carson Wentz during his prime years? Is Wentz being held accountable for his mistakes by a respected voice in the locker room? I just don't think so.
---
Front office
---
This is it, the big one. This is where I feel most of the problems for the Eagles can be attributed to. Again, let's not forget that this does not excuse Wentz, Pederson or anyone else. They all have their part to play in the severe train wreck that is the 2020 Eagles, but I think Howie is the main culprit.
Since the Eagles drafted Lane Johnson and Zach Ertz in 2013, the Eagles have drafted just one other Pro Bowl player (Wentz) and in 2021, he'll be the only Pro-Bowler under the age of 30. Between 1986 and 2002, the Eagles drafted 14 defensive Pro-Bowlers. During the following 18 years, they drafted two (Trent Cole in 2005 and Cox in 2012) – that is astonishing.
His more recent draft classes have left much to be desired too. If you can draft well, you will still be playing in January, that much is obvious. Howie Roseman cannot draft well. Let's take a look at his drafts since 2017.
2017 Draft:
Five picks inside the top 132 and only one of them is still on the team. I do like Barnett but some have their reservations on his ability to be a top-tier pass rusher. Jones and Douglas were both finally cut before this season and Donnel Pumphrey doesn't even play in the NFL any more. In the 'most loaded RB class of recent years', the Eagles went with Pumphrey (Chris Carson, Aaron Jones and Marlon Mack, among others, were all still on the board).
2018 Draft:
This was actually one of his better drafts, finding value in the likes of Avonte Maddox and Josh Sweat who have become decent second-tier players in the Eagles defence. Dallas Goedert also looks to have the calibre to become a top-5 NFL TE in the future. Matt Pryor has really struggled and Mailata spent two years on the sidelines before facing his first snaps only this season. The main issue here was only having five picks. The team isn't getting any younger…
2019 Draft:
JJ Arcega-Whiteside instead of DK Metcalf. /End.
Andre Dillard looked very shaky in the couple of games he featured in last season, and is out for the season in 2020. He could well be a bust and an expensive one at that. Shareef Miller and Clayton Thorson are no longer on the team and are bouncing around practice squads. So Miles Sanders appears to be the only bright spot in a very poor draft. And again, another draft with only five picks.
I won't include the 2020 draft as I can't really judge many players just yet. I guess on the plus side they had 10 picks this time around, so it was a chance to inject some much needed youth into the team, but they still spent a second rounder on Jalen Hurts – a decision that is still baffling most fans and pundits alike. Don't get me wrong, I think Hurts is a good player with good upsides, but the Eagles just didn't need him at all. With glaring holes in the secondary, wide receiver and offensive line, they opted for a backup QB. Unbelievable.
I will also quickly add that although I think Jaleon Reagor will be a good player in the future, passing on Justin Jefferson was a mistake. He's going to be the Offensive Rookie of the Year…
It isn't just the drafts either. Alshon Jeffery's contract has been one of the biggest mistakes in the history of NFL contracts. $20m guaranteed in 2020 has meant the birds just can't afford to cut a player that has caught precisely one catch and didn't dress until week 10. DeSean Jackson has been injured for most of his return stint in Philly and, surprise surprise, hasn't been able to stay healthy. Giving him $27m over three years was also a big mistake. Trading a fourth rounder for Genard Avery? Really?
There are other players that look to be a bust too. Javon Hargrave isn't having a season that is anywhere near worthy of the amount of money he's being paid. Will Parks being cut mid-way through the season is also evidence of the mismanagement of the roster. The secondary is dreadful yet they are cutting guys…
Getting under the cap in 2021 is going to take a monumental effort. As of right now, is it estimated that they will be just under $60m over the cap in 2021. They have 12 players with double-digit cap-hits for next season. They'll undoubtedly cut the likes of Jeffery, DeSean Jackson, Goodwin and probably Malik Jackson to try and make some room. But the continuous 'kicking the can down the road' with big contracts for the likes of Lane Johnson, Brandon Graham and Fletcher Cox eventually has to be addressed. The proverbial birds have come home to roost.
---
So what's the next step?
---
Jeffrey Lurie (Eagles owner and CEO) just cannot afford to let Howie Roseman have another draft. The Eagles currently have seven picks (all their own aside from Dallas' fourth-round selection) in the 2021 draft and it is looking increasingly likely that one will be a top-10 pick. If the Eagles are picking say 5th or 6th, would most people trust Howie to pick that Pro-Bowl calibre corner or safety that this Eagles team so desperately needs?
They need to rebuild and while I don't want Doug to go, I wouldn't be surprised if he does. Surround Carson with new voices and ideas. Hire a goddamn Offensive Coordinator and get him a strong, authoritarian QB coach that can hold him accountable when he his having down time like he currently is. Push him to be his best and get him back to his lofty heights of the last few seasons.
I think the bulk of the blame for the failure of the Eagles not only in 2020, but also since the 2017 Super Bowl year, lies at the door of Howie Roseman and the front office. Get a new face in, new outlook and new ideas and start afresh. Tear it all down and start again. Winning four games straight last year, to finish 9-7 and get into the playoffs through the back door, masked an awful lot of this team's issues.
I just hope Doug and Carson can survive the wreckage. There's a Super Bowl winner in there, Doug has proved that himself, and I desperately want to see Carson get the monkey off his back and lift his own Lombardi trophy.
---
Steve Tough (@SteTough)