Things are really starting to hot up at the top of the College Football world, it's not long until the playoff rankings start to be released and there's so many storylines to follow. So without any further chatter, who are Andy's winners and losers this week?
Winners
Auburn Tigers
Auburn have had a characteristically hot and cold season up to this point, a win against LSU was tempered by defeats to Georgia and Penn State. So coming into Saturday afternoon there was an uncertainty around their ability to overcome an Arkansas team that has looked solid all season.
Step forward the Tigers' defense. Derick Hall sacked KJ Jefferson and caused him to fumble early in the third quarter, with teammate Marcus Harris recovering the ball for a touchdown. On the following drive, Jefferson was stopped on a QB keeper on fourth and short and the Auburn offense took over 71 yards from the Hogs' end zone. It took Bo Nix just one play to eat up that yardage, as he hit a bomb to Demetris Robertson for the score.
That proved to be the hammer blow to an Arkansas team that has gone up against a seriously tough slate of opponents in recent weeks. Just a couple of weeks since he was benched against Georgia State, Nix had his best game of the season – going for 226 yards, two scores and an interception – and it was his leadership on the 75 yard end of game drive that topped an excellent day for the Tigers.
Michigan State
Hands up if you had Michigan State going 7-0 before the season? Not even the most ardent Spartans' fan could have predicted their success to date. On Saturday they faced a resolute Indiana team who caused them a fair amount of trouble, but they still came out with the win. Good teams do that.
Kenneth Walker III has been a revelation for MSU this season, gaining 1022 scrimmage yards over seven games and adding 10 touchdowns. On Saturday he often found space hard to come by, but he still managed to grind out 84 game deciding yards on 23 carries to put his team in a position to win.
However, Spartans' fans have their defense to thank for continuing their unbeaten streak. Freshman Linebacker, Cal Haladay, came up with a huge pick-six in the first half, putting up MSU's only points through the first 30 mins of the game. In the second half Darius Snow added a second crucial pick of stand-in QB, Jack Tuttle, and the game was sealed.
Michigan State now stands at their highest ranked position in six years, just in time for a juicy matchup against Michigan in a couple of weeks.
Caleb Williams – Oklahoma Sooners – QB
All week the weird and wonderful circus around Spencer Rattler had thrown question marks around how Oklahoma would approach the QB position against TCU. We had student reporters with binoculars leaning out of windows, co-starters named on the depth chart and the Sooners' communications team shutting down interviews at one point.
Surely, from the moment they stepped off the field there was no doubt in Riley's mind that Williams would start this game? If there was, then they will certainly have evaporated after a huge performance from the freshman on Saturday evening. Williams put up 295 yards and four touchdowns through the air, adding another 66 yards and a score on the ground.
From start to finish TCU could do very little to slow the former five-star recruit. Williams showed immediate rapport with Marvin Mims, Mike Woods and Jadon Haselwood, the former of which will be relying on the young QB to boost his draft stock over the next season and a half. Whilst on the sideline Williams was composed and comfortable communicating with coaches and teammates, a far cry from the scenes we saw from Rattler in the previous weeks. It is fair to say that the Sooners' have found their guy and kick started their Championship hopes in one quick swoop.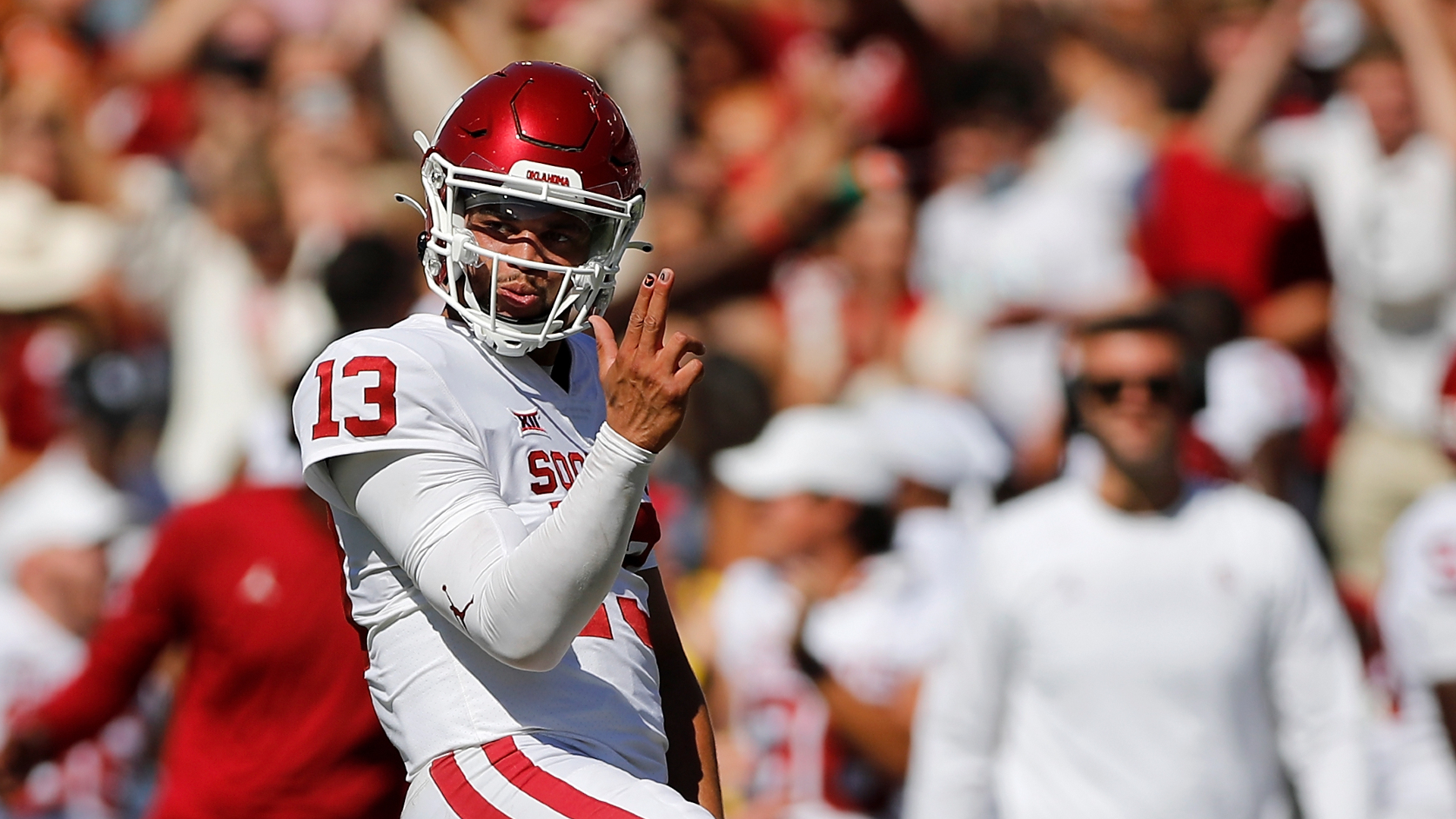 Losers
UCF Knights
Prior to the season there was a feel good factor around UCF, a highly rated Coach had arrived in town and there was a lot of talent to play with on the roster. A combination of injuries, mistakes and bad luck have followed ever since and the Knights find themselves at 3-3, a long way behind their opponents on Saturday, Cincinnati.
But the Knights don't appear in this column because of a loss to the second best team in the nation (according to the AP25), they do so because of the manner in which they got run over at the weekend. Bearcats' QB, Desmond Ridder, only threw for 140 yards in this one, and that wasn't because he missed any snaps. In a clearly orchestrated change of approach, Luke Fickell decided to ram the ball down the throat of the Orlando-based team, with Jerome Ford alone rushing 20 times for 189 yards and four touchdowns.
With UCF missing star QB, Dillon Gabriel, they don't offer any consistent threat on offense either, freshman replacement, Mikey Keene, has been inefficient at best and pretty abysmal at worst. This allowed Cincinnati to stack the box whenever Isaiah Bowser was in the game, holding the Knights' main ground threat to just 28 yards for the whole game.
BYU Cougars
After being widely praised for their performances through the first five weeks of the season, the Cougars have stumbled and ground to a halt in weeks six and seven. First they dropped a very winnable game to Boise State and on Saturday they were thoroughly beaten by a Baylor team that is very much on the up.
So what's the cause of this? Well, opponents have cottoned onto the run game, particularly that of first year starting QB, Jaren Hall. Over the first few weeks of the season Hall came up with pivotal plays on the ground, getting out of a collapsing pocket and making things happen, but over the last two weeks he has put up a total of 22 yards. Star Running Back, Tyler Allgeier, couldn't muster much better on Saturday as Dave Aranda's defense held him to just 33 yards on 15 carries.
On the other side of the ball the Cougars were just outmatched in the early hours of Sunday morning (UK time). Abram Smith and Trestan Ebner combined for 283 yards on the ground, with Smith scoring three of the Bears' four touchdowns. Added to that, the fact that the BYU defensive line couldn't get anywhere near Gerry Bohanon meant that there was very little chance of forcing decisive stops, even on third and long. 
Miami Hurricanes
The Hurricanes came into the season tipped for big things, at least by some pundits. What has transpired is a familiar tale of injury, questionable play calling and a team that struggles to turn its sideline antics into any meaningful results on the field. 
A week after being shown up by Florida State, North Carolina welcomed the 'Canes into Chapel Hill. Both teams have struggled to convert preseason optimism into a good end product, but one of these teams is quarterbacked by a future NFL signal caller. Sam Howell truly was the difference in this one, as he slashed open the Miami run defense for 98 yards and two touchdowns and added 154 further yards through the air.
It was another disappointing day for Manny Diaz's team as their big weapons on offense failed to really make an impact. Charleston Rambo was held to 35 yards on four catches and Will Mallory continued his disappointing season, only bringing in one catch for 11 yards. However, there is a spark of hope, with Cam'Ron Harris now out for the season, Jaylan Knighton stepped up at Running Back – totalling 165 yards and three scores of all round offense.
At 2-4, the Hurricanes look like their season is well and truly done already, and one of the F10Y crew is particularly looking forward to their rivalry game with FSU (insert eyes emoji).
By Andy Moore @ajmoore21