Winners – @Ajmoore21
Georgia Bulldogs
Georgia just kept on being themselves at the weekend, brushing aside Missouri in a 43-6 win and continuing to prove that they are head and shoulders above any other team in College Football this season.
The Bulldogs are 9-0, they've got the second best statistical defense in football (shoutout Wisconsin) and despite deficiencies on offense, they are putting teams to bed – which is more than can be said for a lot of the bigger schools in 2021.
On Saturday Georgia's run game wasn't as impactful as it has been, largely due to the Tigers completely stacking the box, and so the pressure to put points on the board fell to Stetson Bennett, before he gave way to Jayden Daniels. The Bulldogs came up with seven plays of more than 15 yards, helping reassure some doubters that they can win through the air when they need to.
Kirby Smart's men finished the season against Tennessee, Charleston and Georgia Tech, if they can successfully navigate a Vols team that has shown sparks of life recently, this is surely a roster that is on its way to an SEC title and the number one rank in the College Football Playoff.
South Carolina Gamecocks
Here's a team that hasn't had many shout outs this year – the South Carolina Gamecocks. It's Shane Beamer's first year in the job and despite being down to his third string QB, Beamer has started to leave his mark. On Saturday the Gamecocks got a statement win over Florida, lifting themselves to a respectable fourth place in the SEC East.
It was Jason Brown's first time as the starting QB for South Carolina since his offseason transfer from St Francis, an FCS school not known for its football programme. The former two-star recruit completed 14 of 24 passes for 175 yards and two scores in showing that he'll almost certainly remember for the rest of his life.
Whilst Brown had a good day, there's no doubt that the Gamecocks' win came on the back of standout performances from their defense and their rushing attack. Kevin Harris and ZaQuandre White both ran for more than 100 yards, with both backs healthy alongside Marshawn Lloyd, Beamer must be incredibly excited to see what this trio can achieve in the final three games of the season.
South Carolina's defense has been their strong point all season, and it was no surprise that they held the Gators' rushing attack to less than 100 yards in total. They also picked off Emory Jones and returned a fumble for a touchdown in a display which perhaps showed a sign of things to come.
Miami Hurricanes
Over the last three weeks Miami have picked up a bit of steam in the ACC, they've dispatched NC State, Pittsburgh and on Saturday they beat Georgia Tech to move to 5-4. The Hurricanes struggled earlier in the season as question marks around the health of D'Eriq King lingered, but they seem to have comfortably moved on from that now.
The reason they've been able to move on is the rise of Tyler Van Dyke. The former four-star QB has been electric to watch in recent weeks, adding another 389 yards and three touchdown passes to his resume on Saturday afternoon. His rapid ascension has greatly benefited Oklahoma transfer, Charleston Rambo, who cashed in big time against the Yellow Jackets as he caught seven passes for 210 yards and a score.
However, the success of the passing game arguably wouldn't be possible without the emergence of Jaylan Knighton as a legitimate threat in the run game. Knighton missed the start of the season because of an unexplained suspension, but since his return he's proved he has what it takes to be the starting back for the 'Canes. On Saturday he picked up 162 yards on 32 carries and went into the end zone for a touchdown, who needs Cam'Ron Harris?
The 'Canes face FSU in their annual rivalry game next weekend, a game which Noles' fans are hoping that Jordan Travis is ready to go for. If he's not it could be a fairly one sided affair.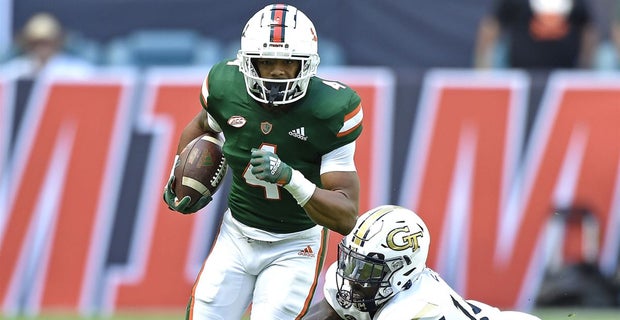 Losers – @Wakefield90
USC Trojans
This USC programme is an absolute disaster zone at the minute.
Prior to the season, the fans didn't want Clay Helton in charge, but the hope lay in a pretty talented roster, with a potentially high-powered offense who could (and probably should) have blown every other Pac-12 team on their schedule out of the water, maybe with the exception of Utah.
I, like many others, backed the Trojans to take the Pac-12 South and take a serious run at the conference championship. However people like me forgot one important thing… Coaching matters.
The USC brass recognised this and with the season going south, having only beaten objectively bad teams so far this season, they fired Helton.
However, things have only gotten worse. USC continues to lose games against any opponent who is competent, and whilst some players are playing ok, it feels like there's even less cohesion, even less chance of a victory and even less of a plan.
The lack of plan is really being highlighted with the use of their two quarterbacks; Kedon Slovis and Jaxson Dart.
Slovis came into this season off a poor showing in 2020, although he was only a season removed from a fantastic Freshman campaign in 2019, so 2021 was an opportunity to show which season was the real Kedon Slovis.
It has not gone well.
Now the Trojans are mixing in Jaxson Dart and it feels like Slovis needs a fresh start elsewhere for his Senior year and the NFL is a million miles away. As is the Pac-12 championship game for this team.
The end of this season can't come quick enough. USC needs to get to the new year, make their Head Coach hire and build themselves back from the ground up.
Wake Forest and the ACC
I won't feel bad for USC, at all. Even though I'm a Pac-12 guy and generally want to see the conference do well, USC has needed to hit the reset button for a while.
However, I do feel for Wake Forest.
I think they have been a breath of fresh air for college football and more specifically for a conference which feels like a foregone conclusion before a snap is taken most years.
Wake has played well and won a lot of games, and this weekend's loss to UNC might not be terminal to their ACC Championship aspirations, although NC State is only a game behind now.
So why do I feel sorry for them?
I guess it's because when it comes to our F10Y CFB Top 25, I've been dying for an excuse to put the Deacs a little higher but just couldn't find a reason why, and I guess this game against a decent conference opponent could have provided me with a little more ammo to do so.
But no dice. And they have to go into the loser's section here.
The ACC as a whole also joins them as this loss for Wake Forest also extinguishes the conference's chances of having a representative in the college football playoff.
Everyone on the College Football Playoff Committee who Voted to put Minnesota in at #20
I mean, what were they thinking?
The Golden Gophers' best win of the season so far was beating Purdue by a touchdown, their best result outside of that might have been only getting beaten by 14 by Ohio State.
Ok, that second one was harsh, but still… What did they see in a 6-2 team (at the time those rankings came out and were met by a collective, "what the..?".
Purdue is only dangerous if you're ranked in the top five, Northwestern is meh this year, and Maryland and Nebraska are super-meh, as always, and outside of that Minnesota have beaten a terrible Colorado team and two MAC teams.
The College Football Playoff guys obviously thought they were being smart, and they didn't even just sneak them in at #25, they were safely in at #20. I guess that does fall into my nobody is good this year energy that I've been giving out on Twitter recently, because nobody outside of around 11 or 12 teams is good, and there is only one truly great team this year and that's Georgia.
Anyway, back to Minnesota… As I say, I think the committee were trying to be smart and maybe thinking that they could win their final four games (Illinois, Iowa, Indiana and Wisconsin), charge up the rankings, play Ohio State in the Big Ten Championship game, lose, and then that gives Ohio State a nice meaty championship game to push them over the top and into the final four.
Oh what drama it would have been?
Alas no, Illinois beat Minnesota and the Gophers put up 6 (six) points. Welp.

Now we can concentrate on the real drama in the Big Ten between Ohio State and the Michigan teams.