Coastal Carolina Chanticleers (5-0) @ Arkansas State Red Wolves (1-4) – Centennial Bank Stadium, Jonesboro, Arkansas
Friday 8th October – 12.30am (UK)
Coastal Carolina 19 point favourite at the time of writing
A double header of live BT Sport action gets us underway in week six of the College Football season, with unbeaten Coastal Carolina heading to Jonesboro to take on Arkansas State.
For a game that has a 19 point favourite, this one has a really good opportunity to be a fun matchup. Both offenses are high scoring, both teams have Quarterbacks capable of putting up big numbers and there is a whole lot of speed on show across both rosters – that's why the bookies have got the points total set at 70.5.
Arkansas State have been fun to watch through their first five games and are very unlucky to find themselves 1-4. The Red Wolves have lost one score games against Memphis and Tulsa so far in 2021, before getting run over (literally) by a Georgia Southern team that completed just three passes against them last weekend in a 59-33 loss.
Florida State transfer, James Blackman, has taken the lion's share of snaps at QB over the last few weeks but in Layne Hatcher they've also got a gun slinger that always has an impact when he's on the field. For context, Blackman has completed 102 passes for 1264 yards and 8 TDs, whilst Hatcher has completed 49 for 621 and 7 TDs. With two solid options available, Offensive coordinator, Keith Heckendorf, has not been afraid to make changes from drive to drive, expect to see that again this week as the Red Wolves try to break down a strong Coastal defense.
One player that could help Arkansas State cause an upset is Corey Rucker, a second-year receiver with speed to burn. There's no doubt that Rucker has got NFL talent, his route running and pace combination is already drawing admiring glances from the scouting community. He backs the talent up with a strong stat line, including six touchdowns already this season. The matchup between the young receiver and standout Chanticleers' CB, D'Jordan Strong, should be intriguing all game long.
Coastal Carolina come into the Thursday night game expecting to move to 6-0 as they look to jump upwards from their 15th spot in the AP Top 25. The Chanticleers have only failed to score more than 49 points once this season, as they ground out a 28-25 victory over Buffalo in week three.
Grayson McCall might be the name that most people outside of Carolina are familiar with, but this is a team with star power across the board. Perhaps the most exciting player on the roster is Tight End, Isaiah Likely. At 6'4" Likely is a real threat anytime he lines up in the slot, his combination of strength, balance and short burst speed is a nightmare for opposition defenders and that shows whenever Coastal are in the red zone.
Jeffrey Gunter is another name to watch out for in the early hours of Friday morning, as the Defensive End turned Linebacker loves getting into the backfield to make a big play. He's joined by the aforementioned Strong at CB, Enock Makonzo and Silas Kelly in a mean defense that is ranking 16th in the country in total defense so far through 2021.
With such a high point total and a good variety of talent on show, this one should be well worth a watch. The defensive prowess of the Chanticleers means that the safe bet looks to be Coastal Carolina, even with the 19 point handicap.
Houston Cougars (4-1) @ Tulane Green Wave (1-4) – Yulman Stadium, New Orleans, Louisiana
Friday 8th October – 12.30am (UK)
Houston 6 point favourite at the time of writing
If the prospect of watching an out and out gun fight isn't for you, then we're also being treated to Houston at Tulane live on BT Sport this Thursday night / Friday morning.
Last week Lee told you he was surprised to see the Cougars listed as the underdog against Tulsa, and he proved to be entirely correct as they blew past the Golden Hurricane (great name) 45-10. This week the bookies aren't proving as daft, listing Houston as the six point favourite against 1-4 Tulane.
Dana Holgorsen's men have run the score up on their opponents in three of their four wins so far this season, with Navy the only team that has held them back in any meaningful way. Starting QB, Clayton Tune, returned on Saturday after missing the Midshipmen matchup with a hamstring injury. His return proved effective as he fed the ball to receiver Nathaniel Dell as often as possible, with the pair combining for six catches and 82 yards.
But it was the Cougars run game that put up the points against a sorry Tulane defense, Alton McCaskill scored three touchdowns on the night, showcasing his 10 second 100m speed in the process. With Tulane's defense ranking 117th against the run through five weeks of the season, it's probably a safe bet to say that McCaskill will continue to be fed this week as well.
Tulane haven't had the easiest of schedules so far, they put up a good fight in the season opener against Oklahoma, got thumped by Mississippi State and have taken the loss in back to back weeks against UAB and East Carolina.
If they're to get anything out of this one, the Green Wave will be relying on Michael Pratt to summon another performance like we saw in the week one matchup with the Sooners. Pratt looked like the better signal caller as he went back and forth with Spencer Rattler, but since then things haven't looked anywhere near as good – he's thrown five picks over his last two games.
Whilst not the most exciting matchup on paper, this one could still see a lot of points scored and is therefore definitely worth a watch for any die-hard fans that are up in the early hours of Friday. The safe bet looks to be Houston and savvy gamblers might even want to go with a larger handicap to improve the odds.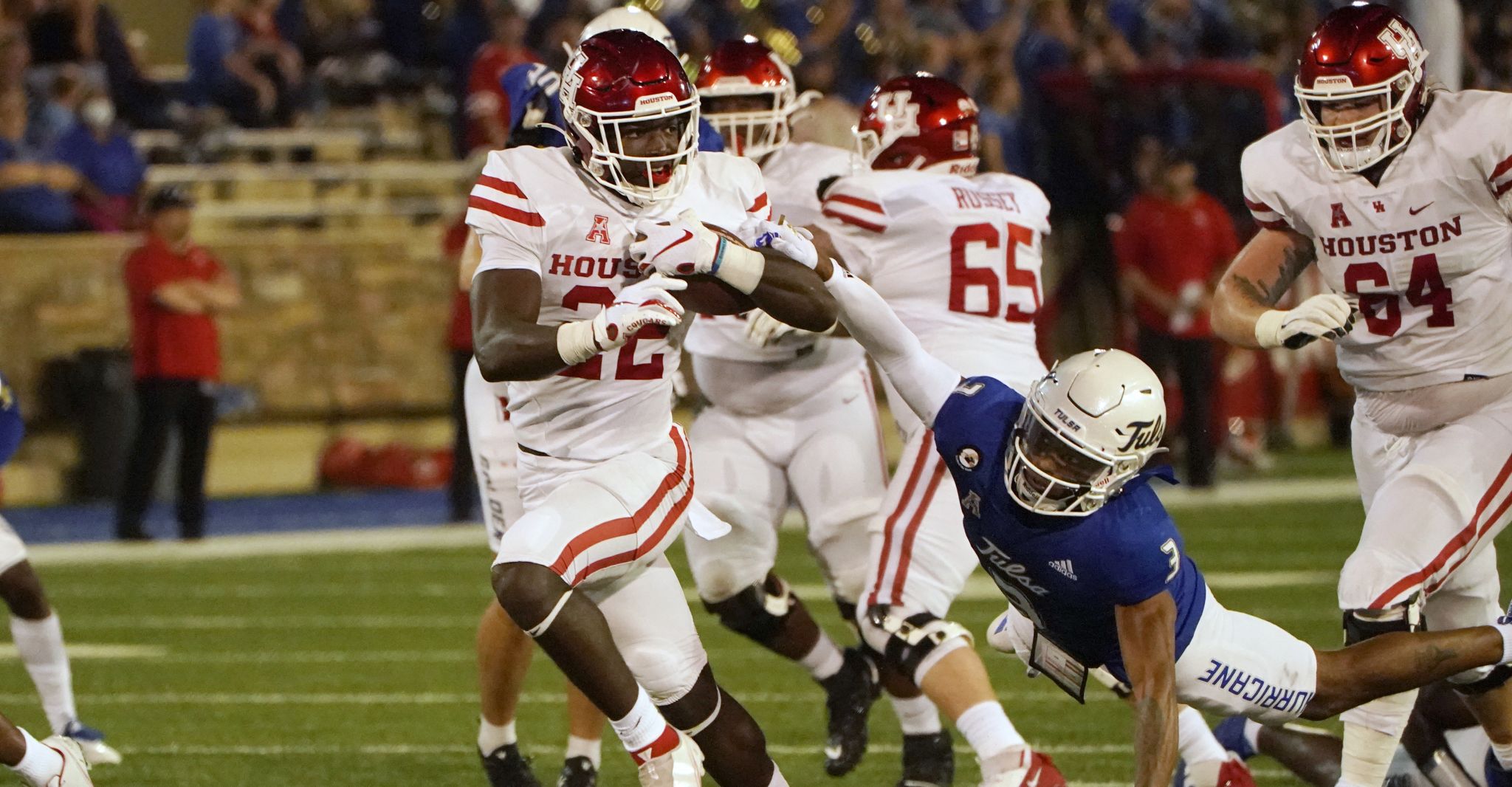 By Andy Moore – @ajmoore21