Houston Cougars (3-1) @ Tulsa Golden Hurricanes (1-3) – Chapman Stadium, Tulsa, Oklahoma
Saturday 2nd October 12.30am (UK)
Tulsa 4.5 point favourites at the time of writing
I have to say, I did a little bit of a double take when I saw that Tulsa were the bookies favourites for this one, given that the overall team records of the Cougars and Golden Hurricanes are the mirror image of each other.
These are two programmes who have stepped up to the American Conference from Conference-USA in the past decade but have trodden slightly different paths since arrival. Houston has made a bowl game in each year it's been in the AAC barring 2019, with talent such as William Jackson III, Ed Oliver, Josh Jones and most recently, Payton Turner coming from the school.
Whereas Tulsa, whilst they have established themselves in the AAC and have produced players like Zaven Collins, have struggled to produce consistent talent and bowl appearances are more seldom seen events.
When it comes to this game, I am not sure I am going to do a fantastic job of hyping it up because when I scratch beneath the surface of these two teams, I see a fair bit of mediocrity. The two starting QBs have both thrown 5 TDs and 5 INTs, and have had more potent rushing attacks so far this year. Neither team has any star power, like the names mentioned above, and both teams have an ability to hang with good teams but also play down to the level of inferior opponents.
However, it is Friday night lights, it is a conference matchup and both teams will want to get out of this game with the dub, so they will play this one tough.
I am going to stick with the home side, and my one to watch is Tulsa receiver Josh Johnson. Johnson had a big game against Ohio State with 149 yards and a score off eight catches and he seems to be Davis Brin's go-to guy. The former Iowa State receiver had a big outing last week against Arkansas State too, so he's coming into this one with the hot hand.
Texas Longhorns @ TCU Horned Frogs – Amon G. Carter Stadium, Fort Worth, Texas
Saturday 2nd October 5pm (UK)
Texas 5.5 point favourite at the time of writing
The big name in this game is certainly Texas but preseason I fancied TCU to be right up there in the Big XII.
I did, however, write a very pro-Texas Tech segment of this very column just a week ago and whilst I am not a huge believer in thai Texas squad, I do see the green shoots of a decently bright era under Steve Sarkisian – And by decently bright I mean they will probably ruin my preseason bold take of not finishing in the top 3 of the Big XII by finishing third.
In all seriousness, I think Sakisian has assembled a good staff. And as I mentioned on the podcast this past week, in QB Casey Thompson, they seem to have found someone who can win them games at the sport's most important position early in the season. Who knows they they spent a couple of weeks to-ing and fro-ing over Thompson or Hudson Card.
I like what TCU has on defense and they are also able to move the ball with Zach Evans on the ground. They also have a diverse group of receivers which Max Duggan can throw the ball to, but what the Horned Frogs don't have, is a player of Bijan Robinson's calibre.
Robinson is a trump card, a joker in the pack, and probably the reason why Texas will win this game, and a few more this season. The former five-star prospect is potentially the best running back in college football, and he's still only a Sophomore. He is running hard, he's elusive and he's also added a new element of being a threat in the passing game too, which we didn't see so much last year. Overall Robinson is on the way to becoming an all-round offensive weapon and a first round pick… But first he's probably going to power Texas to another Big XII win.
#12 Ole Miss Rebels (3-0) @ #1 Alabama Crimson Tide (4-0) – Bryant-Denny Stadium, Tuscaloosa, Alabama
Saturday 2nd October 8.30pm (UK)
Alabama 14.5 point favourites at the time of writing
Here we go then, the game of the weekend in college football, Ole Miss vs. Alabama, Lane Kiffin vs. Nick Saban, Matt Corral vs. Byrce Young; hands could potentially be placed on the the SEC West crown and maybe the Heisman Trophy too.
Maybe saying that these things could be won is premature given that it's only week five, but they certainly could be lost on Saturday night. Another thing that is maybe premature, is everyone jumping on the Matt Corral bandwagon at this early stage – if you want to read more about my thoughts on that, click here.
Do you know what though? I actually think we all need to pump the breaks on this whole game… Does anyone believe Ole Miss will go to Tuscaloosa and get a win?
As much as the TV companies will love to hype it up and tell you what a game it might be, there is a distinct possibility that Alabama wins pretty comfortably… Because you know, they're Alabama. They're at home. They have Nick Saban, and they're clearly the best team in college football again this year.
Either way, this will be entertaining and there will be a whole bunch of points – Last year this game finished 48-63.
If you like touchdowns, big plays and points, then like last year, this game will be for you, I can see a similar scoreline. However, a 15 point win is what it was then and looking at the handicap line, it's probably what we will see again.
So yes, having another 100+ point tie will be great viewing on our primetime Saturday night slot, but will it really be close and a competitive battle? Nah.
Ole Miss and their QB will win hearts and minds if they enter another slugfest and give the champs a bloody nose, but for Saban and the Crimson Tide, they aren't playing to win hearts and minds, they're playing to win another National Championship.
Ole Miss is just another hurdle to clear on that road.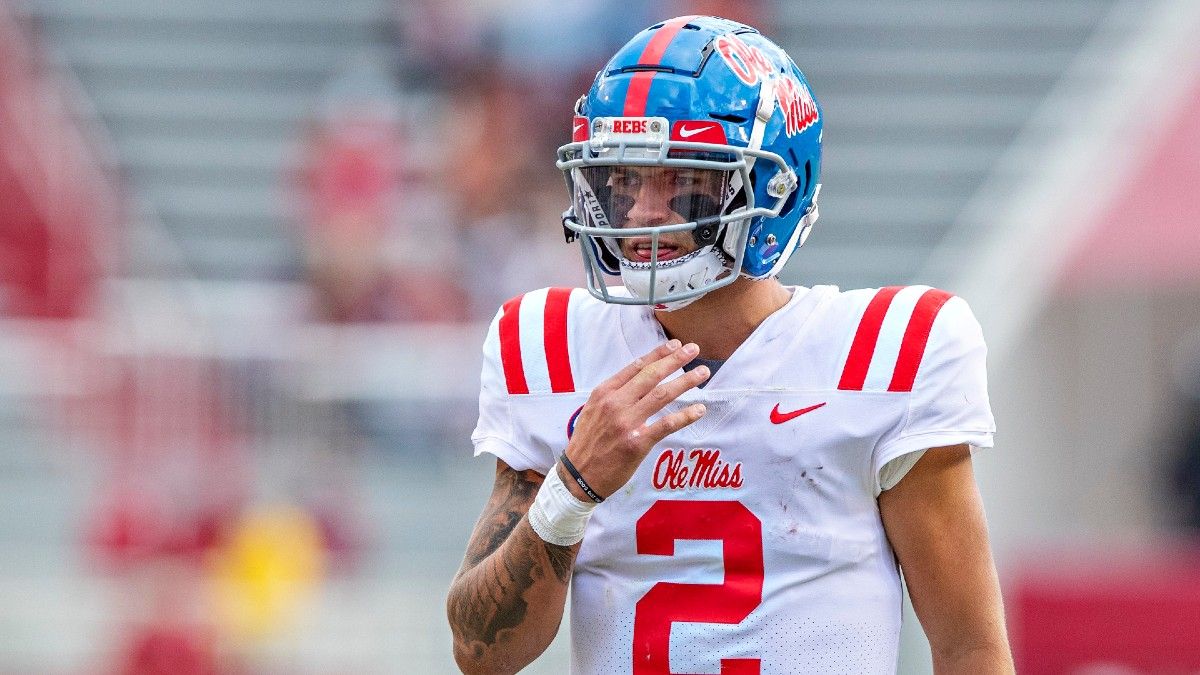 Florida Gators (3-1) @ Kentucky Wildcats (4-0) – Kroger Field, Lexington, Kentucky
Saturday 2nd October – 11pm (UK)
Florida 8.5 point favourites at the time of writing
During a weekend full of exciting matchups, this game feels like it is going under the radar. There's something in the water in Lexington so far during the 2021 season, the hometown Wildcats are 4-0, they've got a roster stacked with NFL talent and Mark Stoops has been impressed with the attitude shown by his squad.
They're in for a challenge in week five, with the visit of the Florida Gators. Despite a defeat to Alabama, the Gators seem to be finding their feet after a shaky start to the season at Quarterback – incumbent starter, Emory Jones, has had his detractors, but he dispatched Tennessee with ease last weekend.
The key to this one will be defensive stops, with two talented offenses likely to put up points whenever they're given the opportunity. So far this season Kentucky rank 9th in the FBS in total defense, limiting opposition offenses to just 260 yards per game. However, they've only turned the ball over twice all season, something which could be crucial against a Florida offense which is growing in confidence every week.
The Gators' defense naturally ranks lower than their SEC counterparts having faced the Crimson Tide behemoth in week three. They did, however, limit Alabama to just 31 points in that game, even mounting a late charge and finishing just three points off the win. Kaiir Elam is the name that everyone will know, but Brenton Cox Jr (Edge), Trey Dean (S) and Zachary Carter (Edge) are all well thought of draft prospects heading into 2022.
Kentucky are one of the teams that have embraced and benefited from the transfer portal following the introduction of the new rules. They've brought in starting QB, Will Levis, from Penn State, and dynamic playmaker, Wan'Dale Robinson, from Nebraska. The connection between the two has been instant, with Robinson already putting up 402 yards in the air through the first four games. It'll be interesting to see if the Gators deploy Elam against Robinson in this one, or whether they choose to use the highly touted defensive back to remove the Wildcats X-receiver, Josh Ali, from the game.
If you're someone who likes a bet on a Saturday night, Kentucky and the points look like a very tempting prospect – but only if their defense can cope with early pressure from Jones and the Gators offense.
Indiana Hoosiers (2-2) @ Penn State Nittany Lions (4-0) – Beaver Stadium, Pennsylvania
Sunday 3rd October – 12.30am (UK)
Penn State 12.5 point favourites at the time of writing
In our preseason preview we said that Penn State were a sneaky bet to challenge for the Big Ten title this year, and through four games that is exactly what they're doing. This week they face a Hoosiers side that had some preseason hype about them after their 6-2 2020 season.
The Nittany Lions have gotten off to a strong start, defeating two ranked sides and gradually finding their feet on offense in Mike Yurcich's new scheme. Sean Clifford has flashed promise in every game since week two, particularly when targeting his two best receivers, Jahan Dotson and Parker Washington.
Whilst their passing game has been hot, the run game is a different story. Despite having a stable of backs that look fantastic on paper, the Nittany Lions have averaged only 113 yards per game on the ground, leaving them ranked 111th in the FBS. They face one of the better run defenses in the Big Ten on Saturday, so Yurcich will be desperate to see more from Noah Cain and co.
On defense, Penn State have been strong as a unit with only a couple of standout individuals in terms of stat lines. Defensive line transfer, Arnold Ebiketie, has been effective and leads the team in tackles for a loss and sacks, but it is former five star recruit, Bradon Smith, who is the clear leader for the Nittany Lions defense from his Linebacker spot.
The Hoosiers will be relying on a couple of standout playmakers to cause an upset on what should be a cold autumn night in Pennsylvania. Standout Tight End, Peyton Hendershot, has been enjoying a quietly effective 2021 campaign, showcasing the talent that Indiana fans were so excited about in 2019. He's been slightly overshadowed by the prowess of fellow pass catcher, Ty Fryfogle, who has his sights set on a career in the NFL next season.
However, both Hendershot and Fryfogle are probably being undersold by starting QB, Michael Penix Jr. The junior signal caller has struggled a lot this season, possessing a 4-6 touchdown to interception rate, and completing just 55% of his passes. Granted, the Hoosiers have played top ten ranked Iowa and Cincinnati in their opening four games, but Penix is going to need to be much better if Indiana are going to get anything from this one.
#22 Auburn Tigers (3-1) @ LSU Tigers (3-1) – Tiger Stadium, Baton Rouge, Louisiana
Sunday 3rd October 2am (UK)
LSU 3.5 point favorites at the time of writing
I had Auburn down to struggle a little bit this year and I also made a bet with Kieran that LSU wouldn't be ranked in the top 10 so am I the wrong hype man for this game? Probably.
We all heard on this week's podcast how down Kieran was about his LSU Tigers, and I could completely understand where he was coming from. When I watched LSU against Mississippi State last week, they just didn't look like a dynamic team who had a bunch of talent within every unit of their team… Sure they have some really talented players who will go to the NFL and probably be drafted in the top 15 picks, but this team really isn't a threat to the major honours right now.
A couple of weeks ago when I saw Auburn play Penn State, like LSU last week they just didn't look super-dynamic either, despite bing a team who has talent smattered throughout. Again, they have talented players – Tank Bigsby, who some are anointing as the second best running back in college football after Bijan Robinson. I also like Zakoby McClain and their cornerback duo but this team really isn't a threat to the major honours right now either.
So what do we have here?
We have a pair of good, not great teams, who both have some major players but not enough of them. They're both good enough to flirt with the top 25 and probably win enough games to get a decent bowl game at the end of the year, but if you're LSU and Auburn, does that all feel just a little underwhelming?
There are just too many parallels between these two teams that say that when they come up against a good team, they just don't have enough to get over the hump.
Their QBs, for a start.
Furthermore, the evidence of the season so far back this – Penn State welcomed Auburn into Beaver Stadium and sent them packing. LSU went to UCLA and returned to Baton Rouge with their tail between their legs, and outside of those two games, these teams have gone 6-0 against nobody.
But hey, on the positive side, they both can't lose this one and they both might as well go for it, if you're a team who are going to be decent then you might as well have fun on the way to the Outback or Chick-Fil-A Bowl.
I think there could be points in this one at least and a fun conference win just could jump-start one of these teams into being more than I expected this year.
By Lee Wakefield (@Wakefield90) & Andy Moore (@ajmoore21)