Another packed weekend of action, another weekend of BT Sport having some of the best games on the schedule for our viewing pleasure… and it all begins on Friday night / Saturday morning!
Wake Forest Demon Deacons (3-0) @ Virginia Cavaliers (2-1) – Scott Stadium, Charlottesville, Virginia
Saturday 25th September – 12am (UK)
Virginia 3.5 point favourite at the time of writing
It's not very often that an all ACC clash is described as a must watch for the neutral football fan, but we could definitely make the case for this week's Friday night / Saturday morning matchup.
A buoyant Wake Forest side will fly into Charlottesville with the aim of going 4-0 and convincing their detractors that they're a real force to be reckoned with this season. The home team Cavaliers will be looking to bounce back after finally succumbing to a 59-39 loss at the hands of UNC.
In that defeat, Virginia QB, Brennan Armstrong, threw for a career best 554 yards and four TDs as he elevated the Cavaliers to keep in touch with Sam Howell and the potent North Carolina offense. However, Armstrong didn't just put up those numbers out of the blue. In all three of his starts this season he's been dominant and some have started touting him as a draft worthy prospect.
He's supported on offense by exciting young receiver, Dontayvion Wicks. The 6'1" sophomore has made highlight reel catches all over the field this year, showcasing his ability to separate using pure speed and track the ball brilliantly over his shoulder on his way to 346 yards and three TDs.
The Virginia defense will be desperate to tighten up against the run against this week, in the UNC game they gave up 392 yards, with Ty Chandler coming up two yards short of a 200 yard afternoon. Christian Beal-Smith and the Wake offense will be looking to take advantage of that deficiency, but it's the Demon Deacon passing attack that has been particularly dangerous so far in 2021. Sam Hartman has got two of the best receivers in the conference in Jacquarii Roberson and A.T Perry, with the latter putting up monster numbers through three games.
With two strong offenses going toe to toe, it'll be interesting to see which defense can make the best fist of things. With the Cavaliers 3.5 point favourites, the good bet may well be the Demon Deacons and the points in this one.
Texas Tech Red Raiders (3-0) @ Texas Longhorns (2-1) – Darrell K Royal–Texas Memorial Stadium, Austin, Texas
Saturday 25th September 5pm (UK)
Texas 8 point favourites at the time of writing
The Big XII is having a good season so far! Maybe they should just keep it!? Only Kansas has a losing record throughout the whole conference going into week 4 of the season and into conference play.
In the opening week of conference play, despite this game being between two unranked teams, I actually think this is the game of the weekend in the conference, and to take it a little step further, I actually like Texas Tech in this one too, despite Texas being the bookies favourites.
Texas Tech have had a really good opening to the season; offensively they are ticking with Oregon transfer Tyler Shough looking right at home in Sonny Cumbie's offense, he's got a link up with star receiver, Erik Ezukanma and the Red Raiders' top two running backs are taking advantage of the space in the offense and getting great production too – Tahj Brooks is averaging 8.1 yards per rush and Xavier White is going for 7.1 a clip.
Ezukanma is going for 21.9 yards per reception which is the best average for a receiver with more than 15 catches at this point in the season. This big play ability and link up with Shough has caught the attention of fans, and I am sure NFL scouts are looking at this pair too, and in the Big XII there's no better team to catch the eye against than Texas. These two guys were a big part of the reason why I backed Texas Tech for a great year this year… Check out this catch from Ezukanma against Texas last season;
On the other sideline will be the Texas Longhorns, fresh off a redemption game where they shut out Rice.
The Longhorns have some talent, and they'll have the backing of the burnt orange crowd at home in Austin… But they're also in the midst of deciding which quarterback puts them in the best position to win football games.
Last week against Rice, it was Junior Casey Thompson who took the lion's share of the snaps but the previous two weeks it was Redshirt Freshman Hudson Card who took most of the reps, although against Arkansas the split was more like 60/40.
A team with an identity crisis under center, under first year HC and a brand-new staff who are still figuring things out are vulnerable, which is more reason for me to think that Texas Tech is going to take this game.
The only player that really gives me pause here is the guy who is going to be the best player on the field on Saturday, and that's Texas running back, Bijan Robinson. Robinson is likely to be the most talented player on the field in most games he plays in this year and really is the key to victory here; if Texas can ride him to the win then they will surely do so, but if the Red Raiders can contain him, then they'll have a big chance.
I believe in the talent that Texas Tech has on defense too – We spoke about them in our Big XII preview podcast – They have… (don't say raided, do not say raided)… er… raided the transfer portal for defensive talent with nine of their listed starters being transfers.
In particular I like linebacker Colin Schooler and safety Marquis Waters who arrived from Arizona and Duke respectively and I feel that these two will have to be on top form to contain Texas' offense and Bijan Robinson.
I think there will be points in this one for sure as despite the QB conundrum, there's a lot to be said for Steve Sarkesian's offense but I am sticking with Texas Tech here.
LSU Tigers (2-1) @ Mississippi State Bulldogs (2-1) – Davis Wade Stadium, Mississippi State, Mississippi
Saturday 25th September – 5pm (UK)
LSU 2.5 point favourites at the time of writing
There's a lot of 'upset' talk about this game, which feels like a stretch seeing as both teams have had similar starts to the season in the SEC.
LSU come into the weekend as a slight favourite after two beat downs on Central Michigan and McNeese State. Of course, they opened their season with a defeat to UCLA, after their preseason ended in turmoil with the impact of Hurricane Ida. So even through three games it feels like they're a bit of an unknown commodity.
There's no doubting some of the Tigers' talent, Derek Stingley is the best Cornerback in CFB, Eli Ricks isn't far behind him on the other side of the secondary and Ali Gaye is one of the better Defensive Ends in the SEC. However, there are question marks around other parts of the roster, in particular the Linebacker position, which has at times been completely ineffective in the run game.
On offense, the Max Johnson to Kayshon Boutte partnership has been the real show stopper. Boutte is arguably a top three receiver in the SEC at this point, and he's certainly still got a whole bucketload of potential to fulfil.
However, Mississippi State are no pushover, and they'll be coming off a 31-29 loss to Memphis that will undoubtedly be a motivating factor. Led by sophomore QB, Will Rogers, the Bulldogs' air raid offense has been on show for all to see so far this season. Rogers has already attempted a CFB leading 163 passes in just three games, completing an impressive 75% of those with an 8-1 touchdown to interception ratio. He'll need to have another good game if the likes of Makai Polk and Malik Heath are to have success against Stingley and Ricks.
The Bulldogs lost in controversial fashion last week, with Calvin Austin returning a punt the length of the field for a score despite the play appearing to be dead. They'll want to set the record straight this week, if they can put up some early numbers then they have every chance of grinding out a win against a questionable LSU team.
Texas A&M Aggies (3-0) @ Arkansas Razorbacks (3-0) – Donald W. Reynolds Razorback Stadium, Fayetteville, Arkansas
Saturday 25th September – 8.30pm (UK)
Texas A&M 4.5 point favourites at time of writing
Probably the pick of the weekend's action when it comes to live UK TV. The all SEC matchup pits the undefeated Aggies against the undefeated Razorbacks, and it would not be controversial to say that the Razorbacks have had the better season to date.
Arkansas comes into the weekend off the back of a nice, easy 45-10 win over Georgia Southern, but it was their takedown of Texas in week two that propelled them up the rankings. In that game the Hogs ran all over Steve Sarkisian's men, before switching their attention to a dominant passing performance against Georgia Southern last week. In other words, they're a threat in both phases of the offensive game, with KJ Jefferson enjoying a nice debut season as the starting dual-threat QB in Fayetteville.
Treylon Burks and Trelon Smith have been one of the best WR-RB duos in football so far this year, with Burks finally putting up the dominant stat line that his play deserves against the Eagles. If the highly touted receiver is locked down, then Jefferson or Smith simply begin to break the defense down on the ground and vice versa. It'll be really interesting to see how A&M choose to play the three prospects on Saturday evening.
Zach Calzada enjoyed a solid outing in his first game as the starter for the Aggies, but it is not disrespectful to say that New Mexico didn't exactly present a tough challenge for the three star prospect. Demond Demas, Jalen Wydermyer and Devon Achane all chipped into that victory, but it was star Running Back, Isaiah Spiller, who had the biggest day, going for 117 yards and a score.
If they're to avoid the upset against the Hogs, the Aggies will need to rely on their stout defense to shut down the three aforementioned players. So far this year that defense has been the better unit for the Aggies, and the likes of DeMarvin Leal, Michael Clemons and Leon O'Neil will likely be just too much for a very promising Arkansas team.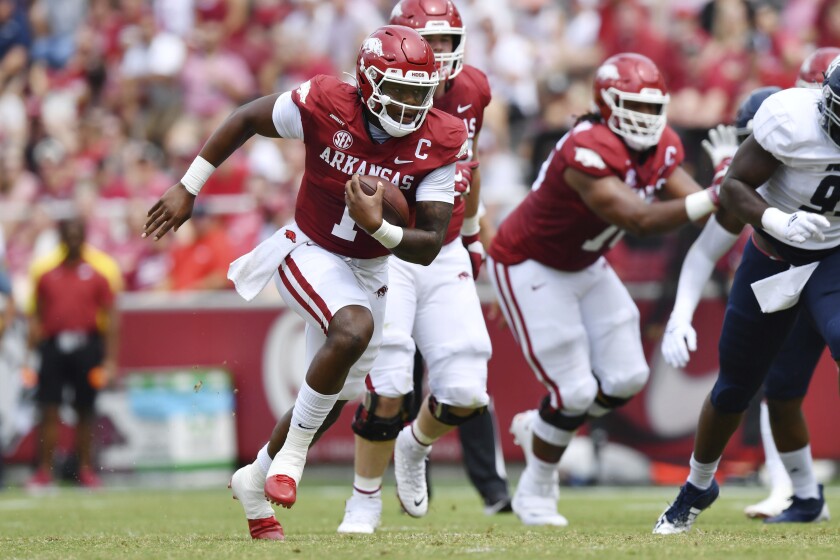 West Virginia Mountaineers (2-1) @ Oklahoma Sooners (3-0) – Oklahoma Stadium, Norman, Oklahoma
Sunday 26th September – 12.30am (UK)
Oklahoma 17 point favourites at time of writing
This one hasn't really got upset written on it. Oklahoma should be able to take advantage of home field advantage, a 17 point betting line and the potential first overall pick leading their offense. But then again, most people thought the same ahead of their close run game against Nebraska in week three.
West Virginia are the visitors to Norman this week. They come into the game following a good win over Virginia Tech, and will be salivating at the prospect of knocking the Sooners down a peg.
Led by former Bowling Green QB, Jarret Doege, the real threat that the Mountaineers carry is Running Back, Leddie Brown. Everything on offense runs through Brown for WVU and they'll need him to be at his elusive best if they're to upset the odds and bring down Oklahoma on their own turf.
The Sooners have got more than just the Mountaineers to beat this week, after such a hyped preseason, doubters are beginning to appear everywhere, both for Spencer Rattler and the team as a whole. Lincoln Riley will look to silence these murmurs of discontent, but he'll need more from the likes of Marvin Mims (WR), Perrion Winfrey (DT) and Pat Fields (S) if he's to do that. Still, with all that doubt piling up around Oklahoma, they should get the job done fairly easily this week.
Arizona Wildcats (0-3) @ Oregon Ducks (3-0) – Autzen Stadium, Eugene, Oregon
Sunday 26th September 3.30am (UK)
Oregon 28 point favourites at the time of writing
My oh my, a Pac-12 team is in the top 4!
This year's Oregon Ducks are the highest ranked Pac-12 team since both Utah and Oregon were ranked at #5 during the 2019 season.
That year, the Utes looked like they could have made the college football playoff but they lost to Oregon and then Texas in the Alamo Bowl, to finish the season ranked 16th, whereas Oregon finished the season 5th as the Justin Herbert led Ducks won the Rose Bowl against Wisconsin.
In my opinion, this Oregon team who are ranked #3 aren't as talented as the 2019 team, but they are riding the crest of a wave right now at 3-0 and two weeks removed from a famous win on the road at Ohio State.
Could this be the year that Oregon runs the treacherous Pac-12 table, goes unbeaten and gets into the college football playoff? Probably not.
As I said, I don't think this team is as good as the 2019 team who lost a neutral site game against Auburn and had their only Pac-12 loss to Arizona State late in the year. That's just what Pac-12 teams do… And as someone who loves the conference, that is said with the utmost love, but most of all experience of this recurring year on year.
With that said, the inevitable loss that rules them and the Pac-12 out of playoff contention for another year will not come this week against the lowly Arizona Wildcats. This is the cream of the conference against a team that is really, well… to coin a particularly British phrase, is on the bones of its arse.
Arizona sucks. Badly.
The Wildcats lost at home to Northern Arizona. Northern Arizona is an FCS team who are 1-2 in the Big Sky Conference. At this point the Pac-12 should be embarrassed to have Arizona as part of the conference.
I made a prediction last year that UCLA wouldn't win a game in the Pac-12, that was harsh and I rightly ended up with egg on my face. That UCLA team won 3 games, and is comfortably better than this Arizona team.
I am going to make the same prediction again – This Arizona team is not winning a game this year.
Oregon QB, Anthony Brown didn't finish the game against Stony Brook last week and it hasn't been confirmed whether he will get the nod against Arizona this week – Freshman Ty Thompson played the second half and offensive coordinator Joe Moorhead had this to say about the backup QB:
"He's a particularly cool customer, there wasn't [sic] any wide eyes when he was told he was entering the game. He was very poised, cool, calm and collected."
For what it's worth, I don't think it matters who is throwing for the Ducks on Saturday. I also don't think it matters whether star man Keyvon Thibodeaux plays or not either.
Media reports say that the pass rusher was lobbying to play against Stony Brook but coaches held him out – Probably envisaging tougher tasks and bigger games down the road. With that and Saturday's opponent in mind, will Thibodeaux play?
I'm not sure, because who is better out of Stony Brook and Arizona? Again, it's questionable… Oregon by a billion.
By Lee Wakefield (@Wakefield90) & Andy Moore (@Ajmoore21)