Georgia State Panthers (4-4) @ Louisiana Ragin' Cajuns (7-1) – Cajun Field, Lafayette, Louisiana
Thursday 4th November – 11.30pm (UK)
Louisiana 12 point favourites at the time of writing
Oh how fantastic it is to have games an hour earlier, sadly this is a very temporary fix as clocks move back and forth on both sides of the Atlantic. However, whilst it lasts it is definitely worth making the most of, starting with Georgia State at Louisiana Lafayette on Thursday.
The Georgia State Panthers aren't exactly a household name over here in the UK, but they've enjoyed a .500 season to date. Whilst their defense hasn't been a strong point, the Panthers have ridden their offense to four wins and an average of 385 yards per game, including three wins in a row coming into this one.
Transfer QB, Darren Grainger, has been steady since arriving from Furman in the offseason, including a stand out performance against Louisiana-Monroe which saw him pass for 230 yards and four scores, whilst adding 84 yards and a touchdown on the ground. However, it is the one-two punch of Georgia State's Running Backs that will pose the most threat to the Ragin' Cajuns on Thursday night. Tucker Gregg and Jamyest Williams have been running over teams all season, making the Panthers the 16th ranked rush offense in the nation with an average of 222 yards per game.
They go up against a Louisiana defense that has been susceptible against the run this year, despite being loaded with promising talent. Tayland Humphrey (DT), Chauncey Manac (LB), Percy Butler (S) and Bralen Trahan (S) are all considered worthy of scouting for the 2022 draft and it'd be brave to bet against them getting the upper hand in this matchup, despite the Panthers' tandem enjoying a proficient year.
Despite a few scares, the Ragin' Cajuns have been handling their business effectively this year with their only defeat of the year coming on opening day to Texas. In recent weeks Billy Napier's men have blown out Texas State and App State, scraped past Arkansas State and tiptoed around South Alabama. At the heart of everything has been fifth year QB, Levi Lewis, who goes about his job in a quietly efficient manner – look for him to get the ball out quickly and into the hands of his playmakers in this one.
Louisiana should comfortably come away with the moneyline victory, but the 12 point spread doesn't leap off the page as particular value either way. Given Louisiana's topsy turvy point totals this season it feels like Georgia State and the points might be the best bet.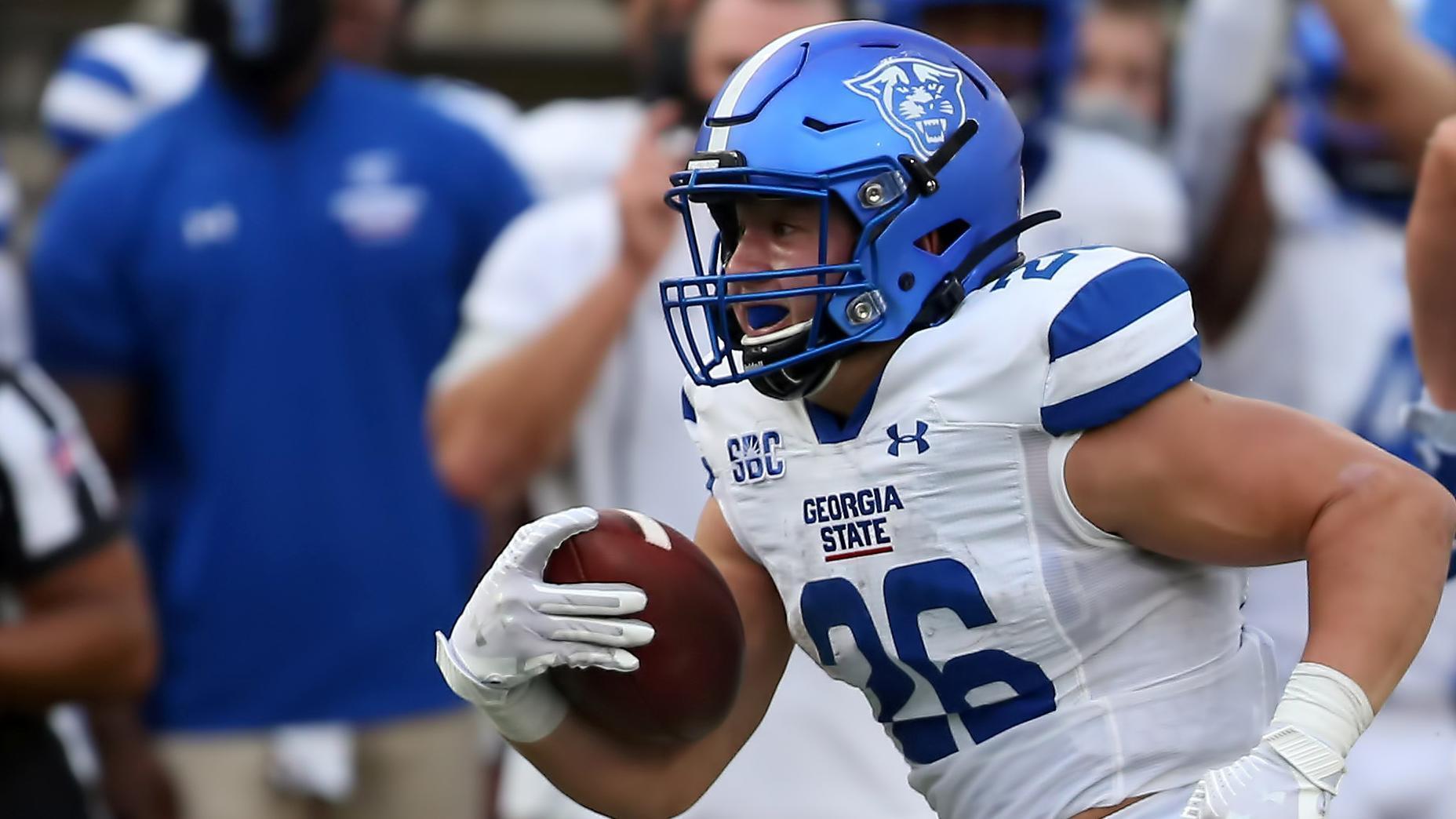 Virginia Tech Hokies (4-4) @ Boston College Eagles (4-4) – Alumni Stadium, Chestnut Hill, MA
Friday 5th November – 11.30pm (UK)
Virginia Tech 3 point favourites at the time of writing
After the first couple of weeks of the 2021 season this game would have jumped off the page as a beautiful showcase of ACC football. However injuries and defensive struggles have left both teams with a .500 record and very little hope of making the conference championship game.
Boston College were incredibly unlucky to lose Phil Jurkovec to a season ending hand injury early on in September. Replacement, Dennis Grosel, has struggled in relief – with accuracy issues being the biggest concern for Eagles fans. This has obviously had an impact on star receiver Zay Flowers, who recorded his first 100 yard game since Jurkovec was hurt last weekend, after several pedestrian performances against NC State and Louisville.
In last week's matchup with Syracuse, Grosel's struggles got a bit too much for the Eagles' coaching staff and freshman Emmett Morehead finished the game. At the time of writing the depth chart has the dreaded 'OR' between Grosel and Morehead, so it'll be interesting to see who takes the first snap on Friday night.
However, the Eagles have placed a renewed emphasis on the run game since the injury to their star QB. Pat Garwo III has been the beneficiary of that renewed emphasis, and whilst his numbers might not jump out of the stat columns, the former four-star recruit is picking up key yardage in every game. Against Virginia Tech's 97th ranked rush defense we might see more of Garwo than we have all season as the Eagles attempt to pick up their first conference win of 2021.
They come up against a Virginia Tech team which drew rave reviews after an opening weekend win against UNC, but have since dropped away into mediocrity. That being said, the Hokies are the favourites for this one, and after Boston College's recent run of form it is easy to see why.
On offense, Braxton Burmeister has a couple of future Sunday players to work with in Tre Turner and Tayvion Robinson. Turner has been especially productive this year, turning 34 receptions into 602 yards and two touchdowns. He'll have to be on top of his game to get the best of the Eagles' 10th ranked pass defense, but his ability to create separation is the perfect way to do just that.
Defensively, the Hokies have got some standout names, the most prominent of which is Defensive End, Amare Barno. The former community college transfer made a name for himself in 2020 as he led the ACC in tackles for a loss. Production volumes haven't been as high so far in 2021, in the six games he's featured in Barno has 5.5 tackles for loss and 3.5 sacks, which is in part due to the increased attention he's getting from offensive lines. If he can get into the backfield and into the head of whichever QB the Eagles run out – the Hokies could pull away quickly.
This one feels like it should be a fairly comfortable Virginia Tech win, so if you're after that early weekend take the Hokies minus the points.
By Andy Moore – @ajmoore21