This encroaching off-season will be a very stressful one for the Dallas Cowboys. They have some big names looking for some big contracts and they'll need them if they want a Super Bowl LV run. One of these names is cornerback, Byron Jones. But does the Cowboys No. 31 deserve to sit at the table with Jerry first? Alex Lewis (@alexlewis226) takes a look..
---
Why Byron Jones deserves his big money in (31)0 words.
---
Byron Jones from the second that he was seen at the combine, has consistently demonstrated his unique and impressive athletic ability. Able to set a world record standing long-jump of 12"3' and recording a 4.36 in his 40-yard dash, Jones has never been needing for athletic confidence. When pairing this demonstration of prowess in the gym to the various measurable's that Byron Jones is considered "perfect" for, like height and hand size, it's not particularly shocking that he was drafted in the first round.
2019 for Jones, considering it being just his second season as a cornerback, was a highly impressive campaign for the UCONN alum. Despite missing the first game of his entire career in Week 17, Pro Football Focus ranked him the number one defensive free-agent prospect back in December. Jones faced just 64 targets on the year, which can be easily attributed to his impressive coverage ability, and allowed just 395 passing yards, a similar yards-per-target to DPOY winner Stephon Gilmore.  
During his time with the Cowboys as a cornerback, No. 31 has been asked to play a lot of press-bail coverage in cover 1 or cover 3. Not only has this made it hard to rack up the turnover numbers expected but playing cover 1 can lead to cornerback's being on islands. Given this challenging scheme fit and the top receivers he has faced in his contract year like, Michael Thomas, Stefon Diggs and Kenny Golladay, Byron Jones can definitely consider 2019 a job well done.
The defensive situation outside of Texas could easily end up helping Byron Jones' prospects of a long-term deal with the Cowboys. This years draft and free-agency period are both far deeper in top-quality safeties than high level cornerbacks and this should increase the urgency on the Cowboys side to get Jones signed up and bought in, rather than wait.
---
Why the Cowboys should move on from Jones in (31)0 words.
---
Byron Jones' chance to stay on this Dallas Cowboy's roster for the long-term has been severely hurt by his inability to come up with turnovers, recording just two interceptions in 79 games. This is many ways has become a microcosm for the 'Boys defence who rank 26th in total turnover's on the season and failed in big situations to come up with the ball. It is true to say that grading Jones shouldn't come down to purely his takeaway potential, and that is correct, but it is definitely part of the bigger picture.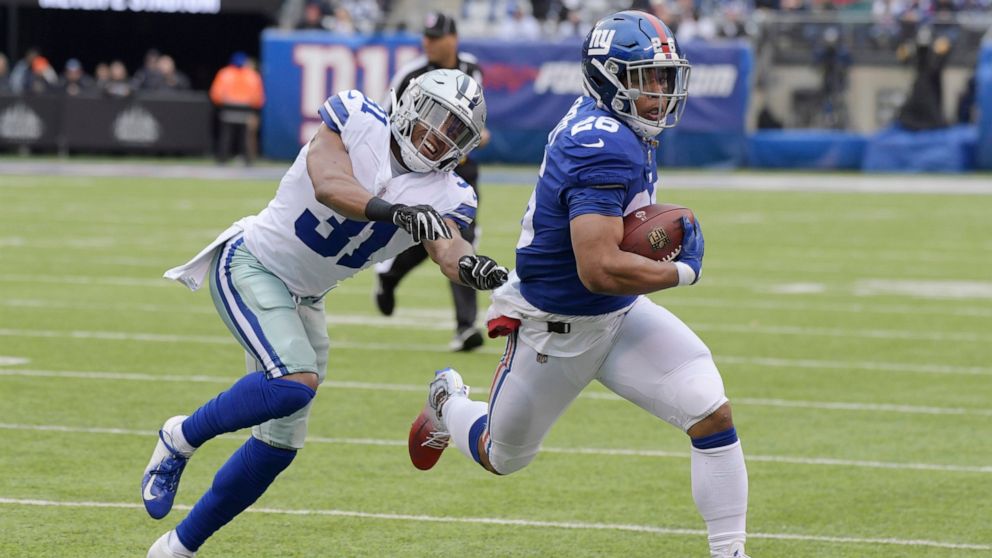 Jones has also struggled because of the changes that the Cowboys have seen on the defence since he entered the fold in 2015. Deciding whether he would be better suited to corner or safety took the team until 2018 to decide on, with Jones playing at free safety until then. This switching between where he played has meant that Jones only has two proper years of statistics to analyse when making the decision on his contract, and it doesn't help that during those years Jones has gone from DC to DC, with Rod Marinelli, Chris Richard and now Mike Nolan. This lack of secure and consistent coaching may cause the current regime to doubt the numbers that the cheque book would require to hold onto Jones for a long time.
Although not his fault, Jones has also faced a continuously rotating and revolving backfield of team-mates to play alongside, which hasn't lent itself to consistent play that the position requires. Barry Church, Brandon Carr, Morris Claibourne and Orlando Scandrick to name just a few. The great defences of NFL history often have uniformity at the core as they develop over seasons, and while I'm in no way suggesting the 'Boys are that, Byron Jones case for a contract has not been helped by a lack of stability.
---
To sign or not to sign; that is the question!
---
The obvious answer on how to deal with Byron Jones is to franchise tag him, and by pure chance with the turn of the Collective Bargaining Agreement, the Cowboys will have use of both the Franchise tag and the Transition tag for this season. This should help to alleviate some of the pressure on the Jones family with both Amari Cooper and Dak Prescott looking for new deals. Byron Jones has obvious raw talent, with refinement coming since he was committed to the position and this is only going to get better. With a new system and co-ordinator on the horizon again, I would implore Jerry to get the long-term deal done and trust in the process.