By Alex Lewis (@alexlewis226)
Tom Brady's decision to move to Tampa Bay and join Bruce Arians had many heads turning when it was announced back in March, as one of the great play-callers in the league was going to get to work with quite possibly the greatest quarterback in the games history.
TB12's decision to leave his spiritual home in New England and head south to the sweltering heat of Florida, surprised the majority of sports media who had spent a month predicting his imminent arrival in Los Angeles as a Charger.
Now however, with the dust settled, and Brady firmly moved into Derek Jeter's sprawling mansion, its time to work out whether Arians is going to have to compromise his vertical system for a quarterback creeping towards 45 and a history of papercutting his opponents to death.
In 2019, Brady threw a total of 60 deep pass attempts in the regular season, with a 41.7% completion rate on those passes, which ranks 9th in the league per playerprofiler.com which certainly doesn't sound like someone who is struggling to dial up the ball deep.
That being said, the season was probably best summed up, in terms of the deep throw, in the New England Patriots home game against the New York Giants in Week 6.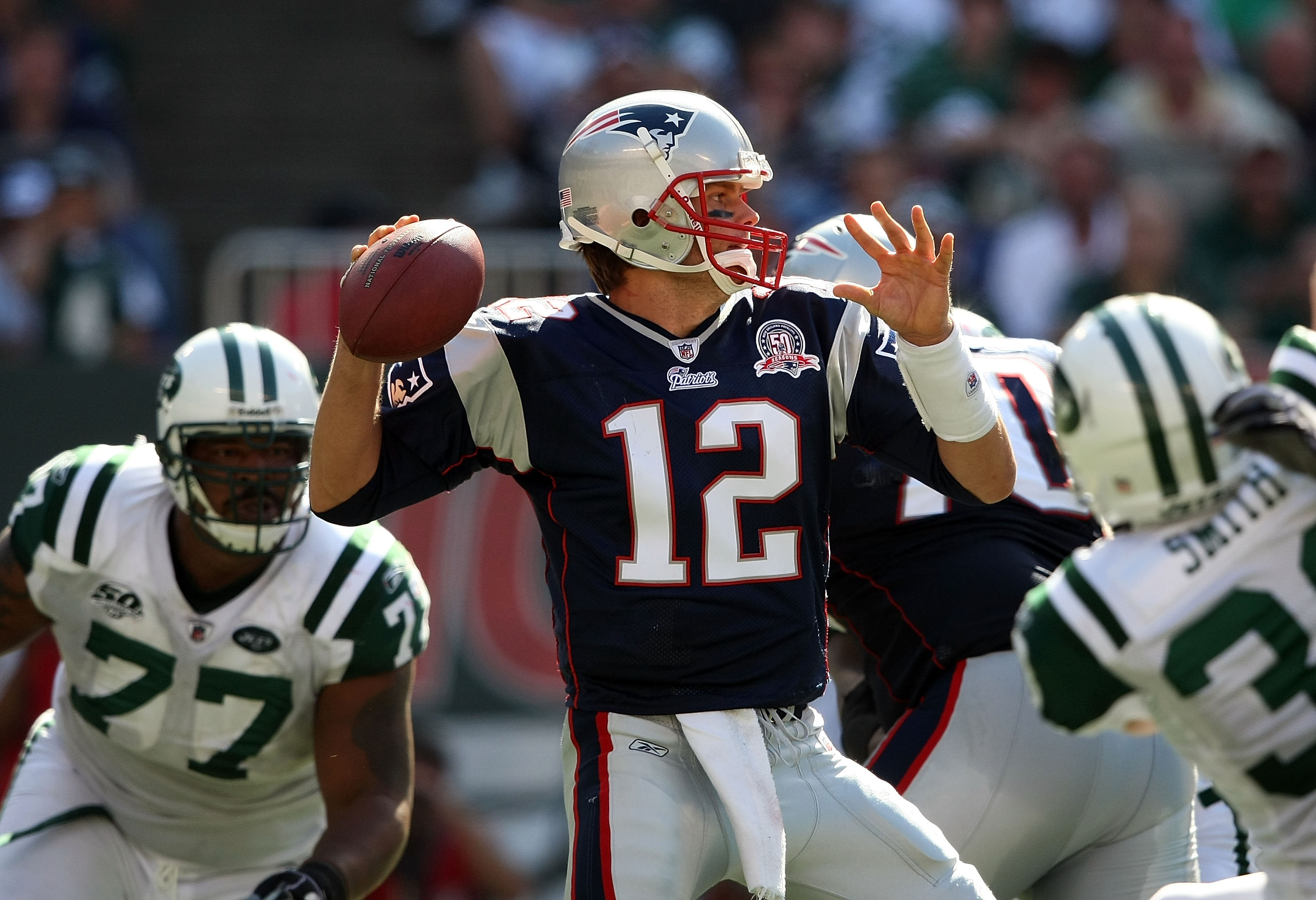 In that game, Brady made a throw well off the mark down the seam that was picked off at the 13 yard line by Janoris Jenkins less than 10 minutes into the game, only to come back in the 3rd quarter and dial up an almost identical deep ball, this one an absolute dime, over the defence and into the diving hands of Julian Edelman.
The big question is then, has Brady still got the skills to make Arians system tick?
---
So, what actually is the Bruce Arians system?
Arians offensive system has become known as a sort of air raid. Designed to drive the ball deep over the defence at any opportunity with as many receivers on the field as is possible.
Having spent a lot of his time in the NFL as a QB coach, to some of the best players that the league has to offer like Big Ben Roethlisberger and Peyton Manning, Arians has made his system very stat-friendly to whoever is under centre.
Known as a "QB-whisperer", Arians has managed to get the best out of the players he has worked with, and Brady should be no different.
Despite all the benefits to working with Bruce, it does also rely on having someone who can make a five or seven step drop and take constant advantage of man-to-man coverage on the outside with accurately thrown deep-routes.
When Arians took charge in Tampa Bay, everyone could see that he had arguably the best receiving duo in football to run this down-the-field system with Mike Evans and Chris Godwin.
Arians duly took advantage of having such a dynamic combo in his first year, with both players going for over 1100 yards in 2019.
He also loves to have his receivers on the field at any time, in case a deep shot opportunity presents itself, but that means that his guys also have to be ready to block in the running game, something that Evans and Godwin were not shy to do last year.
They even got Breshad Perriman, former-first rounder and NFL journeyman, to rank fourth in yards per catch last year, as the Buccaneers saw all three of their receivers in the top 13 of that category which clearly shows how Arians is using his weapons to stretch the field as far as possible.
With Jameis Winston at the helm last year, there was no discussion at all whether they could take advantage of those 20+ yard routes with the arm strength, but ultimately, his 30 interceptions bought a close to the Arians and Winston experiment.
Brady will almost certainly be far more reliable with the ball, but whether he has the arm to make the most of Arians system is the real question.
---
Can Tom still make all the throws?
For Brady, it seems more as though he hasn't been asked or provided with the weapons to stretch the field vertically since that infamous 2007 season and his time with Randy Moss, rather than his inability to make the throws.
In that unbeaten regular season where Moss average over 93 yards per game, Brady also experienced his first campaign with Wes Welker which led to TB12 registering career highs in almost all passing categories.
In that season, with the downfield threat on his side, Brady managed 8.3 yards per attempt, compared to the measly 6.8 that he scored in his final year as a Patriot.
For reference, that ranked sixth lowest in the league in 2019.
Some may say that the numbers come from putting together a "Tom Friendly" system, making use of short routes and throws to a committee of running backs to make up for his lack of physical gifts in the deep passing game.
It seems more likely however, knowing what Bill Belichik is best at, that the team instead chose to go death by a thousand papercuts based on the lack of deep threat that the roster offered last year.
The comings and goings of Antonio Brown and Josh Gordon showed glimpses of what Brady could still give you down the field, but a serious lack of over-the-top weapons hurt any chance the Patriots had of getting back to their own deep-ball system.
---
Compromising is Key
The answer to making this combination of styles work, is of course going to be some compromising and some progression.
With both Tom Brady and now Rob Gronkowski in Tampa, Arians has all the blueprints to making the most out of Brady's mental and physical skillsets by including the best that the Patriots system has to offer.
A potential combination of the deadly air attack of Bruce Arians and the suffocating high percentage throws of Tom Brady is rather a terrifying prospect for any defence, and one that will likely catch out many teams this coming year.
And it seems as though these discussions are already in full swing, with the Buccaneers QB coach Clyde Christensen telling the Athletic that: ""I think what we'll see here (in Tampa Bay) is Bruce's offense with a Brady influence"
He also went on to say that Brady's desire to do what is needed to win has already been noticeable.
"We did some good things last year. Tom has been terrific as far as saying, 'Just tell me what you want to do'.

"He'll make it better. That's what the great ones do. He'll have some great ideas so we're anxious to get his take on things."

Clyde Christensen – Buccaneers QB Coach
As fans, all of us are excited to see what the offensive scheme will look like, but the main takeaway should be that Brady can definitely still make all the throws and do so as accurately as any player Bruce Arians has had since he worked with Andrew Luck in Indianapolis when he's asked to.
However this experiment goes between two of the greats in their respective fields, the marriage between Arians and Brady will be one of the major news stories all year long.
And we can't wait.