With all the hype around the top three wide receivers in this year's draft, it's easy to forget just how loaded this class is at the position. Away from Ja'Marr Chase, DeVonta Smith and Jaylen Waddle, there is an abundance of talent that looks set to be drafted on day two and three in Cleveland.
Whilst not coming with the same expectations and profile as their first round counterparts, it's often on day two that teams find themselves an out and out star at the receiver position. In recent years the likes of DK Metcalf, Chase Claypool & DJ Chark have all been drafted between picks 32 and 64, and there's every reason to believe that the 2021 class will produce several more future household names.
Amongst the best of this year's day two receiver prospects is Oklahoma State's Tylan Wallace.
As the Cowboys' fourth all time receiver in terms of yardage, Wallace comes with a pedigree that is matched by his excellent on field performance. Across his four seasons at Oklahoma State he hauled in 205 catches for 3434 yards and 26 TDs, filling the WR1 role that was vacated by James Washington after the 2017 season.
But it hasn't been all plain sailing for the Fort Worth native. Ahead of a matchup with TCU in 2019 he suffered a torn ACL, denting his hopes of entering the 2020 draft and leading to his decision to pursue a 'prove it' year back in Stillwater. Lesser athletes have struggled to come back from ACL injuries, but not Wallace, who came roaring back and confirmed to NFL scouts that he still had all the explosiveness which makes him such an exciting prospect.
In his own words Wallace has described that explosiveness and his ability at the catch point as the two 'calling cards' that separate him from others in this receiver class. It's not difficult to see why, and any scout / draft analyst worth their salt has seen the highlight reel catches that seemingly littered every game Wallace played in. However, if you dig a little deeper you find a player that has clearly spent time honing these skills, first as a track and field star in high school and then after transitioning into the college game. In an interview prior to the 2019 season Wallace describes how he spent the off season working on his hand-eye coordination to eliminate concentration drops from his game, and in a pre-draft interview with PFF he talked about the importance of practice sessions to his development.
Wallace lined up almost exclusively on the outside for the Cowboys, with his explosive get off and 6ft, 193lb frame making him a tough opponent for any cornerback. Interestingly, the majority of his touchdown grabs came from outside of the Red Zone, a fact that speaks to his elusivity and ability to break tackles after the catch. This is a hugely underrated part of Wallace's game, and his quick burst and short yardage speed mean he's consistently able to transform those 8-13 yard receptions into much larger plays.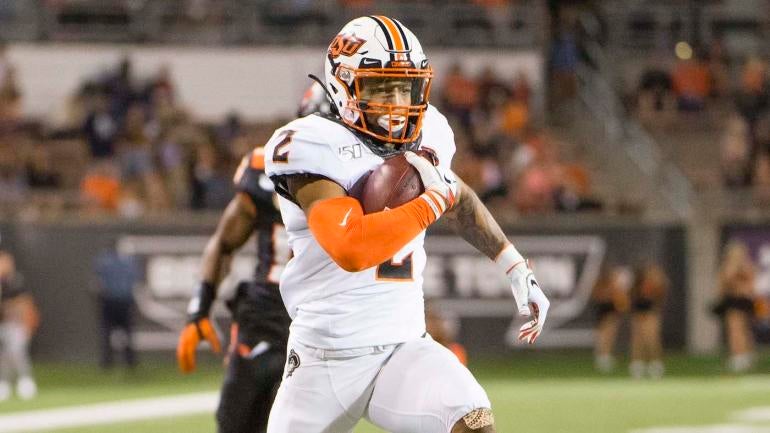 As a route runner, there is a lot to like about the former four-star prospect, with his sharp footwork and quick breakouts allowing him to create separation where necessary. His route tree could be developed further, but it's easy to see that the Oklahoma State offensive scheme only required him to run a small variety of routes as the predominant outside threat. Indeed, when called upon in the 1-on-1 drills at this year's Senior Bowl, Wallace excelled, showcasing all of the ability he's got to make it as a big time player in the NFL.
Away from the gridiron, Wallace is clearly well liked in the locker room, acting as a Captain during his senior season. He speaks with clarity and honesty in his media appearances and doesn't shy away from questions that hype his ability, with comparisons to another former Oklahoma State legend, Dez Bryant, frequently forced upon him. In the aforementioned PFF interview, Wallace clearly says that he wants to become more of a film junky at the next level, which will endear him to NFL scouts and GMs who want younger players to come through the door with a professional mindset already installed.
ACL injury aside, there are very few weaknesses to Wallace's game. Some struggles with physicality won't overly concern the coaching staff wherever he ends up in the NFL, mainly because that just isn't his game. Instead of bullying defensive backs, he utilises his elite body control to adjust and high point the ball, and when in tight coverage his explosiveness out of breaks allows him to shrug off even the best CBs in man coverage.
Scouts will be slightly wary of his limited ability to create immediate separation in press, and he'll be best suited in an offense which gives its QB a quick option underneath, rather than relying on Wallace to separate in the first two or three yards of his route.
Anyone who has followed Wallace's career, from his time as one of the top 15 all time receivers in terms of yardage in Texas high school history, through to his incredibly productive 2020 college season, won't be surprised to see him excel at the next level. The Full 10 Yards Draft Guide has him as a projected second round pick, and he will end up being a steal for any team that takes him there.
By Andy Moore – @ajmoore21