The Full 10 Yards college team loves a debate, particularly when it comes to hypothetical GM moves and 'who would you draft' questions. Well, we've got a good one for you this week as we discuss the consensus top two running backs in the draft, Najee Harris and Travis Etienne.
Coming into the season, both players were heavily featured in all the normal 'top ten' and 'players to watch' pieces, but they've run away with it (with Javonte Williams hot on their heels) and are now looking at being day one or early day two selections.
With a number of teams in the market for a lead back it feels like this debate will be playing out in front offices across the league as you read this. So who would you draft? Let us know and vote in the poll on the @Full10YardsCFB account.
Najee Harris – Alabama Crimson Tide (Andy – @ajmoore21)
2020 Stats: 13 games – 251 carries – 1466 yards – 26 TDs / 43 rec – 425 yards – 4 TD
It takes a special player to shift the narrative on the playing style of an entire position. Najee Harris isn't that player (yet!), but another former Alabama RB is. Derrick Henry has shown that teams can build around a player other than their quarterback on offense, his physical running style wears down teams and allows the Tennessee Titans to fully commit to a play action game plan.
It hasn't gone unnoticed that Harris and Henry are of similar build and playing style. It also hasn't gone unnoticed that there are some aspects of Harris' game which indicate that he could be even better than his fellow Crimson Tide alumni.
The California native is everything you want in a three down back, with elite traits at every turn. His running style fully utilises his 6'2", 230lb frame and he punishes defenders as they try to take him to the ground. His footwork is incredibly quick for a man of his size, allowing him to change direction sharply and break arm tackles with relative ease. And you can't help but sit back and appreciate Harris' athletic ability, as his hurdle in the CFB Playoff game against Notre Dame can attest to.
It's also clear that Harris is a student of the game, and his football IQ allows him to read the trenches in front of him and punch forward with solid acceleration. He often adopts the patient approach to rushing that Le'Veon Bell made so popular in the league, waiting for gaps to appear and making the most of the slightest crack of light.
However, and this is what separates Harris from Henry, the former five star recruit is also a monster in the passing game. He possesses incredibly safe hands (one drop across the entire 2020 season) and is comfortable pulling the ball in away from his body, a trait that immediately adds value to any offense, particularly one with a young quarterback.
After the catch Harris is the same player he is when running the ball downhill, he shrugs off the first man regularly and his powerful legs can churn out additional yardage for fun. He was such a threat in the passing game that Steve Sarkisian occasionally motioned him into the slot, and here he functioned as an additional tight end, creating a matchup problem for the often lightweight college nickel corners that were tasked with covering him.
With all those superlatives spent, it is only fair to point out a couple of weaknesses that Harris possesses. For someone of his frame and strength, you'd like to see a bit more out of him in pass protection, and he particularly struggles with quicker linebackers in blitz situations. Coaches will also want to see Harris picking up easy yardage instead of going for the home run play on every snap, at Alabama he was able to get away with this (averaging 5.6 ypc), but in the NFL the patient approach can leave running backs stranded if they're playing behind a poor offensive line.
It's clear that these issues won't stop Harris being drafted early this year, with the most popular early landing spot appearing to be the Dolphins with the 18th overall pick, but wherever he lands he's got the chance to be the face of the franchise for the next half a decade at least.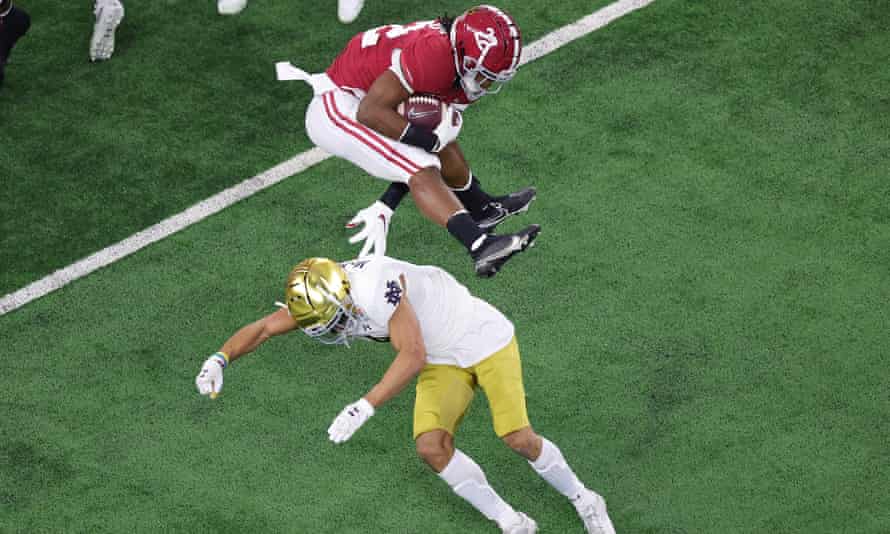 Travis Etienne – Clemson Tigers (Lee – @Wakefield90)
2020 Stats: 12 games – 168 carries – 914 yards – 14 TDs / 48 rec – 588 yards – 2 TDs
So these articles are fun, right?
Here we are trying to convince you who is the best player out of two, quite frankly, excellent players.
Do you know what though? It's not a one-size-fits-all answer.
If your team needs a running back this offseason, and if they select Najee Harris or Travis Etienne, or even Javonte Williams, congratulations, your football team probably got better.
As I said earlier though, I don't think there is a singular correct answer here. Andy has made some great points on why Najee Harris is the better player – Personally, I think there's cigarette papers between all three of these guys, but I won't lie – I have Harris as my RB1 too.
However, my job today is to tell you why Travis Etienne is going to be successful and why he's going to have a better career than Najee… So here goes.
Let's start by talking about Etienne's most elite trait. What jumps off the page more than anything when you watch Travis Etienne?
Speed.
And what is the modern NFL offense predicated on in 2021?
That's right, speed.
The former Tiger clocked in at 4.41 seconds for his 40 yard dash time at Clemson's pro day – Not a surprising result for anyone who saw Etienne play at any point in the past four years. What's more though, is Etienne also posted elite numbers for his 10 and 20 yard splits (1.56 and 2.5 seconds respectively).
So yeah, he's fast but I'm not teaching you anything here… What does this mean?
It shows me that Etienne has elite breakaway speed not only from an acceleration standpoint but he can also build up a head of steam and is a threat to take it for six points any time he reaches the second level of the defence because of his long speed. This unbelievable explosiveness is backed up by a 10 foot 6 inch broad jump, which would put him in the 93rd percentile for running backs all time.
We've seen this breakaway, angle-destroying speed on many occasions throughout Etienne's college career and I feel like this is a trait that easily translates to the next level as there aren't too many linebackers like Devin White who could cover Etienne out of the backfield, the same goes for safeties who are dropping down into the box to help in run support.
Etienne is also a modern NFL back in the sense that he's a more than competent pass-catcher. Etienne has over 100 college catches and over 1,100 receiving yards – something Najee Harris can't say – despite them both playing in a comparable number of games at a comparable level – and he looks natural whilst doing it too.
Whoever Etienne's offensive coordinator is next season, will surely look to get him out in space both in the run and the passing game, and score some touchdowns. If used to his strengths, Etienne is going to be a top tier weapon in space and a super fun watch, just as he was in college.
As is the case so often, when it comes to draft picks they are horses for courses – scheme and landing spot have a huge bearing on a prospect's career. Team's who want a bruiser between the tackles will value Harris above Etienne, however teams who favour outside runs or run an outside zone scheme will love Etienne.
This brings me to my next point, this is a clash of styles and I believe one lends itself to the new mode of thinking in the NFL – to draft a running back, run them into the ground, dump them, and then rinse and repeat.
Whilst Harris and Etienne have a similar number of carries in college, I believe that Harris' all-action style may lead to him taking a larger amount of big hits and therefore accruing more wear and tear. Etienne's quickness should help him avoid these hits and prolong his NFL life-span which I believe, alongside the elite speed, pass-catching ability and modern scheme fit makes him a better long term prospect than Harris.
As I said at the start, these two guys are fantastic players, I believe they will both have success in the short term and will be productive players, as they were in college, however I do think Etienne won't only be here for a good time but also a long time.

Want to read more about this year's RB class? Check out our draft guide – available here.