It's draft week!
With our mock drafts finalised, the Scouting Guide sent out and Mac Jones still rumoured to be going third overall, it's time to hit you with some 'hot takes' ahead of the big day.
Davis adds to the QB drama – Ed Farrar (@Farrardise)
Are you ready to get big brain with me for my draft night hot take? Good, because I'm about to jump down a conspiratorial rabbit hole that leads us to one of the spiciest and farfetched takes of draft season.
So we all know that there are five definite first round Quarterbacks in this year's draft, and I'm pretty confident that all five of them will be selected within the first ten picks. However I'm going to go a step further and say that another one will be selected within the first 32 picks, taking that number up to a record breaking six.
That player. Stanford's Davis Mills.
Now you may question my logic here given Mills has just 11 college starts and a problematic injury history, but let's outline the facts. Mills is a former five star recruit, with all of the traits that teams look for in a franchise Quarterback. He has a strong arm, decent athleticism and he ran a pro-style offence for the Cardinals in 2020. Whilst his tape is inconsistent, he flashes Derek Carr calibre Quarterback play. There's a Franchise Quarterback in there, teams just need to unearth it.
The final point to top it all off is a clue that's staring us all in the face… Mills' head coach at Stanford, David Shaw, is part of the NFL Network panel for the first round of the draft. Now is that because he's a highly respected college coach who has also coached across the NFL? I mean probably. It could however be that he's on because his starting Quarterback is a lock to be taken within the first 32 picks. I couldn't possibly say, but I'd be surprised if he's there for Walker Little or Semi Fehoko.
So there you go, with the 32nd pick in the 2021 NFL Draft the Chicago Bears will take Davis Mills. RIP Andy Dalton QB1 in the Windy City: 2021-2021.
Weight makes DeVonta wait for his name to be called – Lee Wakefield (@Wakefield90)
For a long, long time now draft fans, draftniks and draft Twitter have been talking about a "Big 3" when talking about the top of the wide receiver class. They are all referring to Ja'Marr Chase, Jaylen Waddle and DeVonta Smith of course, but one of those players is widely discussed and widely derided as being too small or too light.
Well duh, they call him The Slim Reaper, of course he's small, right?
Well yeah but after all the talk, who expected DeVonta Smith to weight in at 166lbs?
That is extremely small by NFL Wide receiver standards, so much so that MockDraftable has that as being in the 2nd percentile for players at the position, all-time. What's more? MockDraftable actually lists Smith as 170lbs… How much difference 4lbs would make isn't entirely clear – would it drop him into the 1st percentile? I'm not sure, there is Tutu Atwell who is even smaller(!!).
Anyway, I digress… Let me hit you with the take.
I am going to say that the fact that DeVonta Smith's weight is such an outlier that he falls out of the top 3, I think Rashod Bateman will be drafted before Smith.
To me, Smith is a superior receiver, but as we know NFL front office staff to stupid things all of the time. Although, with this one, is there some rhyme and reason to it?
Bateman is a smooth route runner, he runs with routes with nuance, he has great ball-tracking skills, he can play inside and out, he's got good hands and he brings 4.4 speed… He does all of the things DeVonta Smith does well, admittedly not to quite the level of the former Crimson Tide receiver, but he comes with less risk attached because his physical profile isn't such an anomaly.
I'll close out in support of Smith – I think he'll be a good NFL receiver and both he and Rashod Bateman will have good careers but I just see NFL teams airing on the side of caution this year, more than most.
Saints flip talent to avoid salary hell – Andy Moore (@ajmoore21)
There's almost certainly going to be some fun trade action on the first two days of the draft, there always is and it very rarely goes as the experts predict.
Well, let's add some spice to the trade prediction game and 'rescue' a team from some difficult decisions down the road.
The New Orleans Saints currently sit at $6.5m over the cap limit for the 2021 season. In around a week they'll start the process of negotiating contracts with all their draft selections, which currently stands at eight players, four of which would be round 1-3 selections.
In other words, they need to free up some space to sign any new players. At present, their biggest cap hit for the season is Drew Brees – after years of manipulating space in a bid to compete for a Championship the future Hall of Famer's contract has finally caught up and, despite his retirement, Brees is still set to cost the Saints $12.25m of cap space in '21.
They can't do much about that, but what they could do is flip some of their other big contracts for some draft capital this week. Right Tackle, Ryan Ramczyk, sits at the next biggest cap hit ($11m), with Marshon Lattimore ($10.2m) and Michael Thomas ($10.1m) also taking up more than 5% of New Orleans' cap each.
Now, with a deep tackle, receiver and cornerback class in 2021 – is it beyond the realms of possibility that the Saints have a bit of a fire sale on Thursday evening? It is of course arguable that all three of those players could get them at least a first round pick in return.
Ramczyk feels the most likely to be traded, with teams like the Bengals, Dolphins & Colts all in need of starters on the offensive line – if the Bengals phone Mickey Loomis and offer pick 38 and 149 would New Orleans turn that down? They could then draft someone like Spencer Brown or Dillon Radunz with the 38th pick and get a like for like replacement for a fraction of the cost.
I'm backing at least one team to make a move for someone on the Saints roster, and if the Saints are smart they could have a sale and still have a roster ready to compete with the Buccs in the NFC South (don't sleep on Famous Jameis!).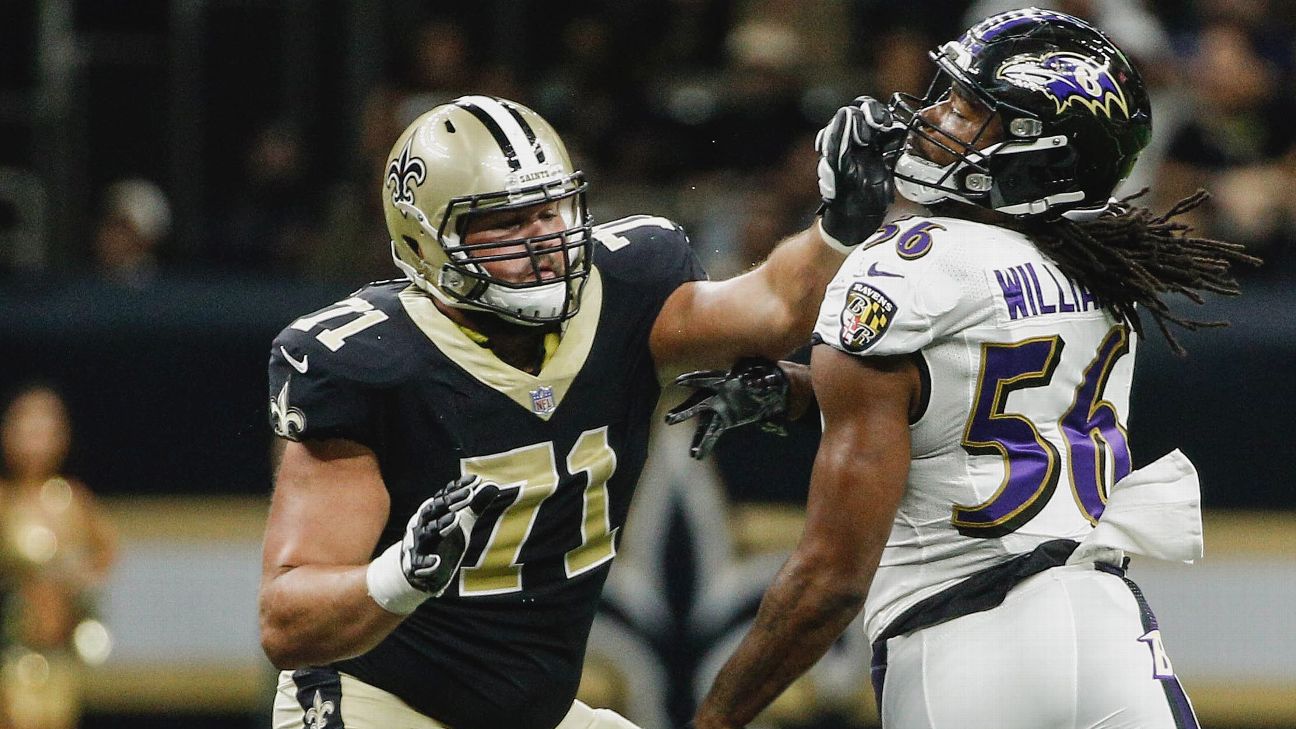 Block and catch, it's as simple as that! – Raj Garcha (@the_garch)
In a draft where five Quarterbacks are likely to be taken in the 1st round, and there isn't a single Defensive Tackle or Safety projected as a 1st round talent, my hot take is SIXTEEN (therefore 50%) of the first round will be comprised of either a pass catcher or Offensive Tackle. To satisfy the criteria for a pass catcher, this includes both Wide Receivers or Tight Ends. To explain how hot this is, in the last 6 years, applying these criteria to the first round of the draft, the results are as follows: –
2020 – 12 picks
2019 – 7 picks
2018 – 5 picks
2017 – 8 picks
2016 – 8 picks
2015 – 11 picks
So this year, we would need to eclipse last year's total by four to achieve this milestone. Looking at the top classes in this year's draft, wide receiver and offensive tackle are two of the top three ranked classes that have both high-end talent and depth. In addition, there are numerous teams that have pass catcher and offensive tackle as top requirements in the 2021 draft, and there is more than feasible scenario whereby there could a run on the receiver or tackle classes in round 1.
To elevate this take to another level, the sixteen players that can be taken in the first round comprise of the following prospects: –
| | |
| --- | --- |
| Pass Catchers | Offensive Tackle |
| Ja'Marr Chase | Penei Sewell |
| Devonta Smith | Rashawn Slater |
| Jaylen Waddle | Christian Darrisaw |
| Kyle Pitts | Alijah Vera-Tucker |
| Rashod Bateman | Teven Jenkins |
| Elijah Moore | Samuel Cosmi |
| Kadarius Toney | Alex Leatherwood |
| Terrace Marshall | Spencer Brown |
Let's see if this outrageous take plays out as has been predicted, however stranger things have happened in first rounds previously; so don't be surprised if this comes to fruition on Thursday April 29th. If so, see my Twitter account the next day where no doubt I will be taking all the acclaim.
Osa the way… It's Odighizuwa time. – Kieran Patterson (@TheHimboF10Y)
I've been called a hot take machine before…shocker.
This take is so spicy to people not in the know that it might as well be a secret menu item. That being said if you know me or @The_Garch it might not be that much of a shock.
Osa Odighizuwa. The 6'2" 290lbs Defensive Lineman from UCLA by way of Dayton, Ohio.
The first team all Pac-12 senior is an absolute monster on the line and is one of the most exciting players in this draft. So where is the hot take?
Currently Odighizuwa is on most draft boards as a mid 2nd to early 3rd rounder. I have him graded as such in the Full 10 Yards Draft Guide. The hot take here is that I think Odighizuwa will be a top 5 Defensive Lineman after his first 3 years in the league, if not the top 3.
Odighizuwa is a phenomenon. In terms of raw athletic power he is one of the most impressive players I've ever watched film on. At high school he was a state champion wrestler and that is immediately noticeable. His understanding of leverage is second to none and he uses this to beat his man and find the football at all costs.
When he's rushing the passer, he can penetrate gaps and put pressure on the quarterback very quickly, causing less composed signal callers to make a lot of mistakes. He also plays at 100% every single play meaning tired blockers are going to be absolutely exhausted having to take on Odighizuwa as games progress.
His natural explosiveness and fluid body movement also means he's hard to stop once he gets going, as everything he does is one movement. He pairs that ability with violent hands, meaning that blockers are going to have to match what he can do with his arms or be very quickly overwhelmed by a mix of speed and ferocity.
So right now I'm putting every single NFL offensive lineman on notice. Be weary of this man as he will be haunting your dreams soon. There's a new Daron Payne coming to the NFL and oh my lord is he scary. Get ready for defensive powerhouse and future all pro…OSA ODIGHIZUWA.
If you liked these takes then listen to us discussing even more of them on the Full 10 Yards College Football Podcast.