Not many NFL prospects can say they're fluent in both German and French, but Amon-Ra St.Brown isn't just any other NFL prospect.
With a father that was twice voted Mr Universe, a brother that's already playing in the NFL (Equanimeous) and a younger brother that is also a receiver on Stanford's roster (Osiris), it's clear that the St. Brown family have a good awareness of the grind it takes to be a high level athlete.
The 11th overall recruit in the 2018 cycle made the decision to enroll at USC based on their reputable business school and the city location. He made the most of the academic opportunities he was offered, leaving with a 3.09 GPA (roughly a 2:1 for UK readers) and a chance to be one of the most impactful receivers in the 2021 draft class.
Accolades were already racking up for St. Brown before he ever stepped foot on the University Park campus in Los Angeles. As a Senior at Mater Dei High School he made no fewer than seven 'first team' lists and was named All-Trinity League MVP as his school won the California CIF Division 1 title.
If expectations were high, then the Anaheim native lived up to them in his freshman season. St. Brown was the lead receiver for the Trojans, turning 60 catches into 750 yards and 3 TDs, despite only starting five times across the year. Since then he's been on the radar of most NFL scouts as one of the most exciting pass catchers in the 2021 class.
Prior to the 2020 season it was rare to see St. Brown line up anywhere but in the slot in the USC offense, in fact he thrived in that role turning in eight, nine or ten catch games on an almost weekly basis and operating as the main target for JT Daniels and then Kedon Slovis at the back end of the 2019 season. But it was obvious that the 'slot' designation irked him and, with the departure of Michael Pittman to the Indianapolis Colts via the 2020 draft, he shifted to the outside for last year's pandemic-shortened season.
The move paid off and Pac-12 scouts will have seen a versatile player that is just as comfortable on the outside as in the slot or in pre-snap motion. Indeed St. Brown is a significant contributor at all levels, regularly converting screen passes into significant yardage or coming down with jump balls further down the field.
His best attribute is without doubt his route running, in fact St. Brown might be the best route runner in this draft class. Quick footwork and short yardage burst help him explode out of routes, and the sharpness of his movement is enough to shrug off opposition defensive backs, creating consistent separation. When combined with the advanced route tree that the USC offense instills into its receivers (look out for comeback, slant and curl routes especially), this makes for a mouthwatering prospect for NFL offensive coordinators.
St. Brown is also elusive after the catch, using his quick footwork and elite balance to force missed tackles and add short chunks of yardage onto the end of every play. His tape against Utah is the best way to see this from 2020, as he moves the chains on a screen pass and shallow route by using his footwork and elusive running technique to avoid the first tackle.
At the catch point the former 5 star recruit is a more than willing competitor. St. Brown is an incredibly clean catcher of the ball, often using his 9 ⅛" hands to clearly take it in away from his body. He also has no problem in contested catch situations, showcasing all of his 38.5" vertical and body control to high point and come down with the football acrobatically, as showcased by three of his four touchdowns against Washington State in December.
What you can't ascertain from the stat lines and data on St. Brown is his ability to come up big in key situations. Time and again in 2020, the Trojans found themselves in need of a big play to flip the scoreboard late in games. Step forward their leading receiver. Against UCLA, with 21 seconds left on the clock and down three points, Slovis threw a back shoulder pass which St. Brown adjusted in mid-air to take cleanly and come down in bounds for the walk off touchdown. Scouts will love that trait as it showcases a mental fortitude that simply can't be taught.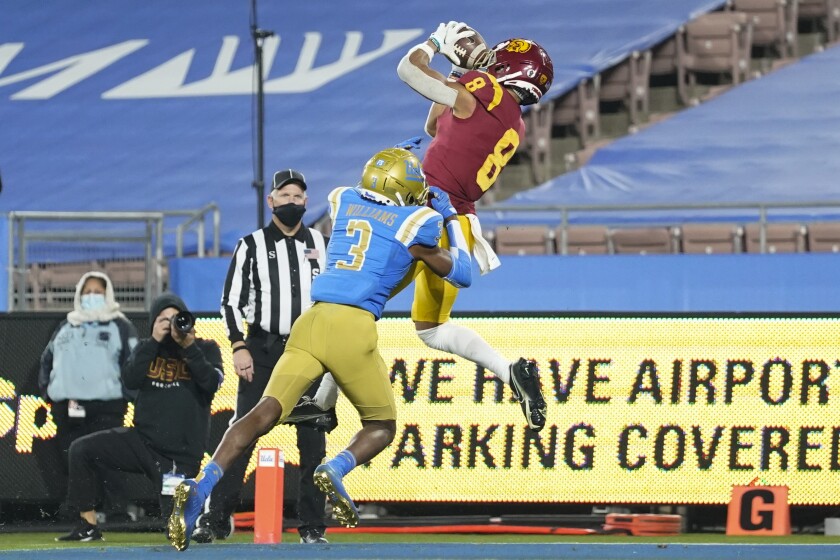 Like any prospect, there are areas that St. Brown needs to work on. A lack of elite deep speed was showcased by a 4.51s 40" yard dash at his pro day, and he often struggles to shake his man on go routes. This isn't a massive problem as taking the top of defenses simply isn't his game, whichever team drafts him will recognise that and will surely look to utilise his route running ability to move the chains or eat up 10-20 yards at a time.
One area that can be improved with increased film study and a higher level of coaching is St. Brown's awareness and adaptability when plays begin to break down. If he's going to be the star receiver he can be at the next level, he needs to be able to anticipate where his QB wants him to be as soon as he has to break out of the pocket. This aspect of his game is lacking at present, but it is easy to excuse it in part due to the mid 2019 switch in USC's starting QB, and then the pandemic hit pre-season of 2020 slowing down the process of building chemistry.
At the next level there's no reason whatsoever that Amon-Ra St.Brown can't be a major contributor for any NFL team, his work rate, skill set and big play ability are all evidence of that. The Full 10 Yards Draft Guide has him going fairly early on day two, and it wouldn't be a surprise to see a team fall in love with him and draft him earlier than that.
By Andy Moore @ajmoore21