Earlier this month the PAC-12 announced that it had a new Commissioner, George Kliavkoff. The announcement sparked a new era for a conference which has historically produced some of the best teams ever to play College Football (CFB).
In recent years however, the conference has been inconsistent, with Washington's 2016 team the last playoff team to emerge from the west coast. Kliavkoff will look to bring in new revenues to the PAC-12, and it would make sense that he'll be pushing hard for an expanded playoff system in the coming years.
So, with less than 100 days to go until the season, what are the main storylines to follow?
Can anyone emerge from the pack?
With the release of the DraftKings projected win totals this week, it is immediately obvious what the PAC-12's main strength or perhaps main weakness is. An abundance of good, but not great teams provide fantastic entertainment for the fan, but they often cancel each other out and end the season with a record that doesn't have them in contention for a top-four ranking.
The projected win totals have USC, Arizona State, Washington and Oregon on nine total wins, with Utah half a game behind them. Any team that drops three games and finishes the season 9-3 is unlikely to qualify for the playoffs with the likes of Alabama, Oklahoma, Ohio State and Clemson all unlikely to lose more than two games in 2021.
| | | | |
| --- | --- | --- | --- |
| PAC-12 South | Projected Win Total | PAC-12 North | Projected Win Total |
| USC | 9 | Washington | 9 |
| Arizona State | 9 | Oregon | 9 |
| Utah | 8.5 | Washington State | 6 |
| UCLA | 7 | Cal | 5.5 |
| Colorado | 4.5 | Oregon State | 4.5 |
| Arizona | 2.5 | Stanford | 4 |
Data from DraftKings
Clearly these projected win totals mean nothing in practice and there's every chance that one team can step forward and smash through the bookies' predictions.
So who is best placed to break away and mount a charge for the final four and beyond in 2021? Well firstly it is interesting to compare out of conference schedules to better understand where those crucial extra wins are going to come from.
USC are considered the favourites to win the PAC-12 South, with some people having them ranked as a top-10 side in the nation. The Trojans face San Jose State, BYU and Notre Dame, with the BYU matchup scheduled for the last weekend of the regular season. In practice this USC team should be winning at least two of these games, and they'll be confident of securing a result against a Fighting Irish team that may be facing a transitional year.
In the PAC-12 North, Oregon are the early favourites, and with some of the defensive talent they've got it isn't hard to work out why. They play Fresno State and Stony Brook, which should be nice games to bed in a few incoming freshmen and either Anthony Brown or Ty Thompson at the QB position. However in between those games (in week 2) they face Ohio State, a game which could make or break either team's season. With both the Ducks and the Buckeyes starting new signal callers, the game may well come down to a key matchup between Oregon's secondary and Ohio State's loaded receiving core.
Beyond the top two teams, Washington face Michigan in what could be a great chance for young Huskies star Sam Huard (more on that below). But it's Arizona State and Utah who have two of the easier out of conference schedules. The Sun Devils have an experienced defense returning for 2021 and with one of CFB's most exciting players leading the offense in Jayden Daniels, they've got a real chance of beating USC and securing a place in the Conference Championship game. They'll have to get past a strong Utah offense if they're to do that, with the Utes bringing in exciting transfer TJ Pledger to give Charlie Brewer a talented option out of the backfield.
With Kliavkoff in place, some of the best QBs in CFB and a lot to prove, it feels like it's time for a PAC-12 team to emerge as a real title contender. With a lot of early season matchups against some of the premiere programmes, it might not be long before that team unveils itself.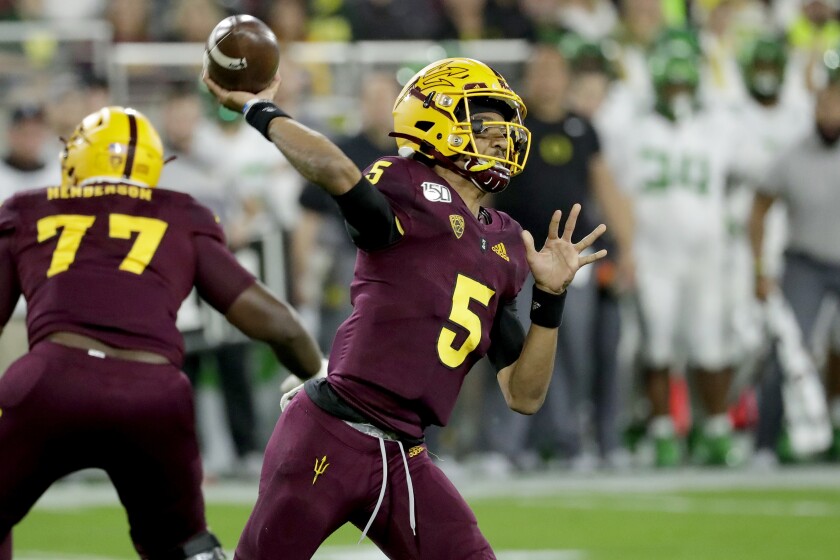 Is Clay Helton the man for USC?
It's been just over a decade since Clay Helton became the Quarterbacks Coach at USC. Since then he's worked himself through the programme and it's hard to believe he's now entering his seventh season as Head Coach. The former college quarterback would be the first to tell you that it's been a roller coaster ride, from being ranked third in the country in 2016 to a 5-7 season the following year and everything beyond.
The 2020 season is a hard one to judge any team by, but there's no disputing that USC flattered to deceive throughout the majority of their six regular season games. Highly touted QB, Kedon Slovis, blew hot and cold from drive to drive, and they benefited from fortuitous turnovers. The Trojans' luck ran out in the Championship game against Oregon, with Slovis turning the ball over three times in a 31-24 defeat.
Given the high profile nature of the USC job, it rarely seems like there is a month without speculation about the future of the Head Coaching job. Recent articles have touted a number of names with the top job, including Cincinnati's Luke Fickell, and the regularity that the subject is discussed is enough to make you think Helton must be on the hot seat.
The reality may be completely different as it was revealed that Helton's salary was around the $5m mark – and throwing into question when SC have the finances to move on from him, especially given the vast compensation that they are required to pay as part of a long running scandal. His current contract runs through the 2023 season, and that feels like the point that a change will be made unless things change drastically in 2021.
So can the Trojans step up to the next level this year? Well, they do return Slovis in his junior season with arguably his best receiver from 2020, Drake London. In just six games last season, London caught 33 passes for 502 yards, showcasing a skill set that his Head Coach has compared to that of Tampa Bay's Mike Evans.
Outside of Slovis and London, it's a fairly fresh faced offense heading into 2021. At the receiver position there's certainly a lot of raw talent for Offensive Coordinator, Graham Harrell to mould, Bru McCoy was once one of the hottest names on circuit and he's joined by transfers K.D Nixon and Tahj Washington. Another transfer, Keontay Ingram, looks set to form an interesting tandem with Vavae Malepeai in the Trojans' backfield. After threatening to break out in his Sophomore season, injuries have hampered Ingram and he'll be determined to prove his talent after losing his Texas role to Bijan Robinson.
But it's at the offensive line position where some large question marks remain. At the time of writing it seems that Brett Neilon is the only confirmed starter on the Trojans' line, with both guard and tackle spots seemingly up for grabs. Whilst having competition at those positions is nice, USC had an average line in 2020 which did lead to sacks on 6.4% of passing downs and a lowly 105th overall opportunity rank in the run game.
The loss of Talanoa Hufanga, Marlon Tuipulotu and Olaijah Griffin will certainly impact heavily on the defensive plans of second year Defensive Coordinator, Todd Orlando. However, the Trojans defense did improve in 2020, so a full off season and three high calibre defensive transfers, including Ishamel Sopsher, could lead to even further improvement in 2021.
Everything points to Helton being the guy in Southern California for at least the next two seasons, but a very competitive schedule means that there will be no room for error in 2021. If the Trojans can put their foot on the gas and jump up the rankings then that is only a good thing for the relevance of the Pac-12, and it'll certainly be a good thing for Clay Helton.
Are the Washington Huskies a powerhouse in the making?
There's a quiet buzz growing in the Pacific Northwest. It's not every year that the Washington Huskies recruit the best pro-style QB prospect in the nation, but in Sam Huard they've done exactly that.
Son of former Washington and NFL signal-caller, Damon Huard, the 2021 recruit chose to keep up the family tradition and play his college ball in Seattle. Huard's High School tape showcases his ability as a pure pocket passer that is comfortable hitting his man at all levels of the field.
However, to start the 2021 season it'll likely be Dylan Morris under center in John Donovan's offense. Donovan took the Offensive Coordinator job in 2020 after several seasons with the Jacksonville Jaguars in the NFL. The pandemic blighted season didn't allow for him to prepare as well as he'd have liked but there were real glimpses of promise despite the Morris' lack of a reliable deep ball.
In Cade Otton, Jalen McMillan, Rome Odunze and Terrell Bynum, Donovan has a mix of flashy youth and veteran experience in his pass catchers, with Otton looking every bit the modern NFL Tight End. Both Morris and Huard got plenty of time to form bonds with the receiving core this Spring, and it seems inevitable that the likes of McMillan and Odunze will mature with the five-star rated freshman as the future of UW's offense.
Interestingly, given Washington's historic prowess when running the ball, there were reports upon Donovan's appointment that he'd seek to balance the offense. Yet in 2020, they ran the ball more and passed the ball less on average when compared to 2019. With a young QB that perhaps isn't a surprise, but what it does show is that the Huskies will play to their strengths, something they did in a strong comeback win against Utah which was the highlight of their four-game season.
Defensively, UW lost four key players to the NFL draft in April. Joe Tryon, Elijah Molden, Levi Onwuzurike and Keith Taylor were all drafted, the first three all within the top 100 players. Crucially, Head Coach Jimmy Lake can rely on players with CFB experience to step up and fill the holes left by those players in 2021. Former four-star Corners, Kyler Gordon and Trent McDuffie should prove a good partnership in the Huskies' secondary, with McDuffie's existing performances already leading to speculation of a fairly high 2022 draft selection.
Perhaps the most exciting prospect on the Huskies defense is Sav'ell Smalls, the 6'2", 250lb five-star Linebacker who has a taste for rushing the passer. After a 2020 season in which Smalls was thrown into the action from the off (playing the 2nd most snaps as a Linebacker for the Huskies), there are certainly some lessons for him to learn. But, with that valuable game experience already secured the 2021 season looks set to be a real breakout year for him.
With so much young, high quality talent on the roster could something special be happening in Seattle? Only time will tell, but the Huskies certainly seem to be trending in the right direction for 2021 and beyond.
—
So much could be written on the PAC-12 with it's real mix of styles and talent, got any other storylines that you're excited to watch? Let us know at @Full10YardsCFB.
By Andy Moore – @ajmoore21