Does one conference have more sleeping giants than the Big Ten? The likes of Michigan, Penn State and Nebraska have rich, successful histories but haven't been a factor in the national picture for some time.
Meanwhile one of their rivals has firmly cemented themselves as one of the best teams in the whole of America. Ohio State will look to dominate the conference that they've won four years in a row, as they aim to go one step better than they did in 2020 and triumph in the National Championship game.
Former Arkansas and Wisconsin Head Coach, Bret Bielema, is back in the Big Ten this season, taking the Illinois job with the hope of transforming a programme that has had nine straight losing seasons. With new leadership in Champaign, Jim Harbaugh must be feeling the pressure in Ann Arbor – after six seasons with the Wolverines the all important conference championship and a playoff berth have eluded the former 49ers Head Coach.
So it's with that in mind, what are the main storylines to follow in the Big Ten this season?
Is the Penn State offense primed for success?
It's no secret that the Penn State Nittany Lions had a disappointing season in 2020. James Franklin's team dropped their first five games, before clawing back some dignity with wins against Michigan, Rutgers, Michigan State and Illinois to finish the year.
First year Offensive Coordinator, Kirk Ciarrocca, seemed to absorb a lot of the blame for the Nittany Lions' poor performance and was given his marching orders in January. Given the pandemic blighted pre-season and the unusual circumstances Ciarrocca had to operate under, it is perhaps surprising that he wasn't given a second year to install his offense.
Ciarrocca was immediately replaced by former Texas Longhorns OC, Mike Yurich, a move that looks designed to immediately boost the prospects of starting Quarterback, Sean Clifford. Yurich boasts a resume that includes the development of a number of well known names, Justin Fields, Sam Ehlinger and Mason Rudolph included, and Franklin is hoping that his prized former four star recruit is soon added to that list.
Clifford has flattered to deceive during his time as the Nittany Lions' starter, putting up promising numbers in his first season under center, before regressing slightly last year – committing 12 turnovers in the process. However, the departure of Will Levis and Micah Bowens means he's the unquestioned starter entering his redshirt senior year in 2021. Yurich's first media availability back in February shone a light on what we might see more of this year, as he talked about the importance of footwork and extending plays outside the pocket. Given Ehlinger's prowess as a runner for the Longhorns last year, it is entirely possible that Clifford could build on the 335 yards and 3TDs he put up on the ground last year.
"He's got to have a good platform. He's got to transfer his weight. Those are things that we can control: where our eyes are, our eye discipline and our feet discipline. And then on top of that, it's about the individual's accuracy and their talent level."

– Mike Yurich on what he wants from a QB
As well as a new coordinator, Clifford also has the assistance of an extremely talented group of skill position players coming into the new season. After missing all but the first drive of the 2020 season, Noah Cain is generating buzz on his way back from injury to lead the Penn State rushing attack. The IMG Academy product looked set for a big year before the injury struck, as he surpassed the Nittany Lions' record for rushing TDs by a freshman in 2019. He's joined in a crowded RB room by John Lovett, Devyn Ford, Keyvone Lee and Caziah Holmes – all of whom have starting experience at the college level. It appears likely that Cain's bruising style of play will earn him the majority of the carries if he's healthy but the competition for the change of pace role is wide open at this point.
At the receiver position, Clifford will have two future Sunday players to throw to in Jahan Dotson and Parker Washington. The former passed up the opportunity to enter the draft this year and will return for his senior season having already been named to the Maxwell Award watch list and several preseason 'All American' teams. Washington is a name that some may not be familiar with yet, but the slot receiver is an explosive player who looks set to act as a safety blanket for his QB in 2021.
In Rasheed Walker, the Nittany Lions have one of the best Left Tackle prospects in the country, but he'll be joined by several new starters on the line this season. Both starting Right Tackle, Will Fries, and Center, Michal Menet, were drafted in April, leaving some big holes for a team that wants to be competing with the best of them in 2021. Mike Miranda started at Guard last season, but he could shift inside to Center unless the coaching staff feels Juice Scruggs is better suited. The third starter on the interior will be Harvard transfer Eric Wilson, a senior who has added weight in the offseason to further strengthen his anchor. Caeden Wallace has some starting experience and he'll protect Clifford's front side at RT.
So how will they fare when football returns in September? Well, with a full offseason and Yurich's tempo based offense, they're one of the biggest threats in the Big Ten in 2021. Ball State and Villanova should be walkovers, but Auburn in week three will be a good gauge of how relevant the Nittany Lions will be this year. Of course they'll be competing with an incredibly stacked Ohio State team in the Big10 East, but with a solid defense and some legitimate weapons on offense the Lions' faithful will have a lot of faith in this team.
Introducing the new face of the programme in Columbus
As he walked into the 2019 Elite 11 camp, CJ Stroud was a three-star prospect with a chip on his shoulder and a lot to prove. Six days later he walked out as the MVP of the most prestigious high school QB camp in the country.
Stroud himself was shocked at how much his life changed after that event, with some of the major Power 5 schools immediately stepping up their pursuit of him. The notable recruiting sites upped their ratings, and the California native had a ridiculous number of options to choose from as he made the decision as to where he'd continue his development.
Eventually, following extensive recruitment from Ryan Day, Stroud chose Ohio State and the opportunity to become the heir apparent to Justin Fields. He enrolled in January 2020 and spent most of the pandemic blighted season sitting on the bench, with Fields barely missing a snap across the Buckeyes' eight games.
So what are OSU getting in 2021? Well first and foremost, they're getting an accurate passer who can already throw with a lot of anticipation. Stroud is at his best when stepping up into the pocket and hitting his receiver on a crossing route, freezing the Linebacker with his eyes and throwing open his receiver – Jaxon Smith-Njigba could easily have the most targets on this team despite the more experienced Chris Olave and Garrett Wilson drawing all the pre-season hype.
The sophomore prospect also possesses a smooth release, aiding the aforementioned accuracy, and whilst his arm isn't as strong as Fields', he has the ability to comfortably hit all areas of the field. Outside the pocket Stroud is comfortable throwing on the run, he hit Olave for a score in OSU's spring game doing exactly that, but it's likely that Day and Offensive Coordinator, Kevin Wilson, will want to develop him into a more impactful rushing threat.
Having only started at the position for two seasons of his high school career, it's clear that there are going to be some growing pains along the way for Stroud and the Buckeyes. However, there's not a better place for him to succeed in the whole of CFB, with a receiving room that is absolutely stacked full of premiere talent, and a run game that will be able to beat teams almost single-handedly at times.
OSU fans have a lot to be excited about, especially if Stroud can form a formidable partnership with Marvin Harrison Jr (who has all the talent to be able to take over from Wilson and Olave next season). He'll be keen to be bedded in by week two, when the Buckeyes host Oregon for a rematch of the 2014 National Championship game – with the eyes of the nation on him, will the 19 year old be ready for it? His resume to date suggests he will.
A new dawn in Champagne, can Illinois put up a fight in 2021?
After nine consecutive losing seasons, you could forgive fans of the Illinois Fighting Illini for being a bit down about their prospects of making a splash in 2021. The last time an Illinois team had a winning season was the last year of Ron Zook's reign in 2011, a purple patch which saw the team have back to back 7-6 seasons.
However, coming into 2021 there's a hint of optimism in the air in Champagne. Former New England Patriots and New York Giants defensive coach, Bret Bielema, is in town and he's assembled a coaching staff with considerable experience to help him turn around the fortunes of the Fighting Illini.
App State coach Tony Peterson joins Illinois as the new Offensive Coordinator, bringing a playing style centered around pounding the rock, something that will be music to the ears of starting RB, Chase Brown. But more importantly, Peterson isn't afraid to embrace the modern, up tempo style that defines some of the best teams in the Big Ten. Whilst this modernisation may take a while to embed into the Fighting Illini, it's exactly what they need to improve as a programme.
On defense, Bielema will be assisted by new Defensive Coordinator Ryan Walters, a hire which again speaks to the programme's commitment to overhauling its style of play. Walters is seen as one of the best young defensive minds in the college game, so for Bielema, bringing him to Illinois is a hell of a coup. After taking the DC job for Missouri in 2018, the defensive unit shone just a year later, ranking amongst the nations best in several categories, including total defense (14th NCAA – 312.0 avg) and scoring defense (17th NCAA – 19.4 avg), while excelling as a Top 10 pass defense (eighth in passing yards allowed NCAA – 179.3 avg). Those stats are a stark contrast to the Fighting Illini's 2020 performance, where they ranked in the bottom 20 teams for total defense.
So what impact is this likely to have in 2021? In terms of record, it's probably not going to make a huge difference to the Fighting Illini's fortunes this season. Some tough matchups against Penn State, Virginia and Wisconsin and Iowa will most likely be too much for Bielema and his new-look staff. However, there are plenty of winnable games on the schedule, and how Illinois fares against the likes of Rutgers, Maryland and Northwestern will likely set the tone for future seasons. Perhaps the most intriguing matchup of the season comes in the opener against Nebraska, a year after Mike Epstein and Brown put the Cornhuskers to the sword in the run game – if they can repeat that feat in 2021, then maybe they can build some momentum early on.
The impact of the new coaching staff should be far more evident off the field however. A recruiting ranking of 73rd in the nation is poor this season, but 247 has Illinois' 2022 class ranked as the 36th best in the nation at the time of writing. If Bielema can improve the team's record this season, that impressive ranking is only going to improve, with more and more talented players interested in developing themselves under his tutelage.
That's not to say that this is a roster devoid of talent, and there is one particularly exciting player to watch, Owen Carney Jr. With Bielema's history as a defensive line / outside linebacker coach, Carney Jr could take a huge leap in his senior year. The defensive end put up career numbers in the shortened 2020 season, with 27 tackles, 6TFLs, 5 sacks and a forced fumble. With rumblings of a move to OLB for 2021, the former three star recruit could be looking at a future Sunday job if he continues to develop at the same rate under his new Head Coach.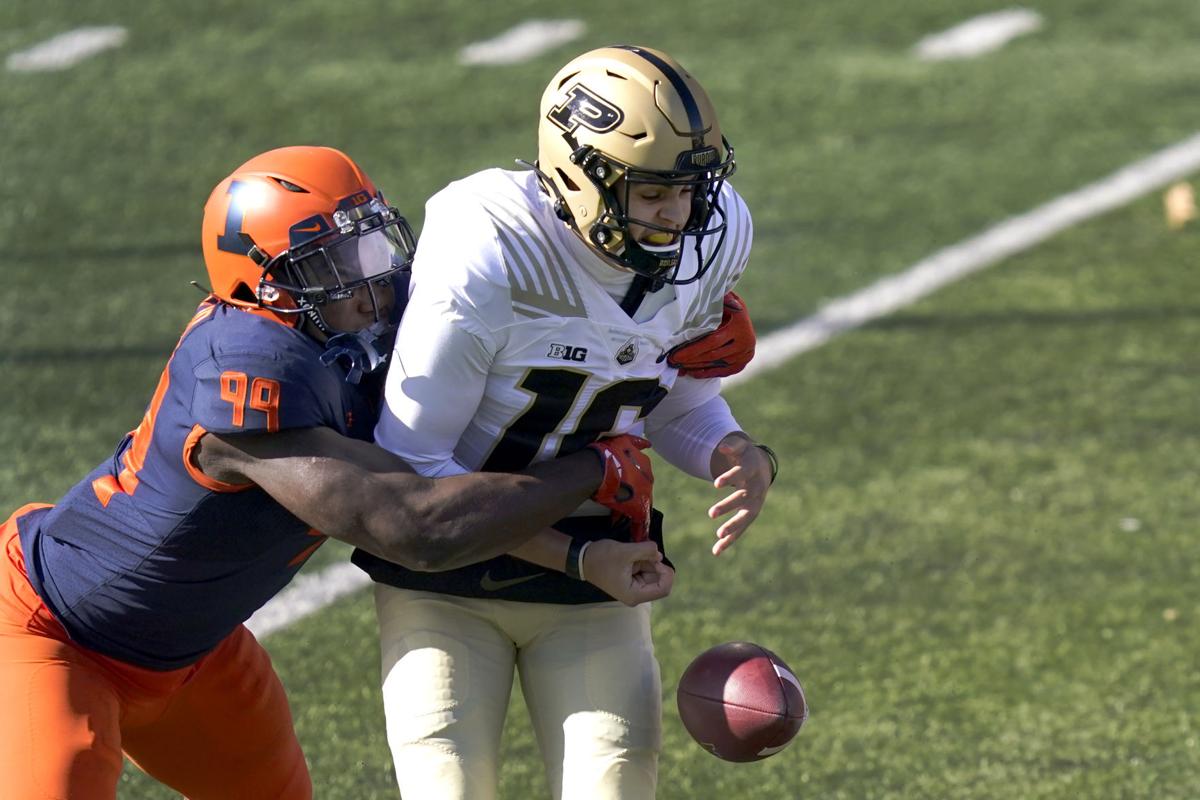 ——-
Like what you've read? Got any other key storylines for us to follow? Let us know at @Full10YardsCFB.
By Andy Moore – @ajmoore21