by Rob Grimwood – @FFBritBaller
This is my favourite time of year. Not only is it draft season and the free agency period where teams can look vastly different to how they looked at the end of 2019, it's a chance to get away from the madness that's happening around the world right now. It's nice, if only for a moment, to also escape into watching tape from 2019 and sift through depth charts to try and glimpse who might catch fire over the coming season.
Obviously the draft is a few weeks away, and teams are going to continue to add in key piece as they look to strengthen their weaknesses, but, as things stand, here are five defensive and five offensive players that have a great opportunity to break out and become household names in 2020.
---
Defence
---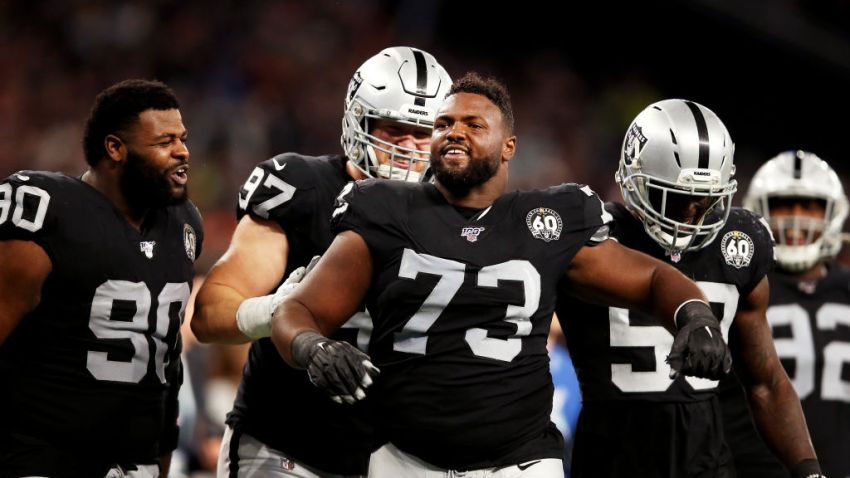 Jack Thomas – Getty
Maurice Hurst – DT, Las Vegas Raiders
You remember this guy – he was the player that dropped from a potential day 1 pick all the way to the 5th round in the 2018 draft because of a heart condition. Well, it's since transpired that in 2 years of football, that condition hasn't affected him yet as he has played in 29 of a possible 32 games.
He came into the league as a top prospect out of Michigan with high pass and rush grades. But being a piece on a below average defense has hindered his opportunity to breakout and really show what he is capable of. However, the new-look Vegas team has made major moves on defense this year bringing in players such as Cory Littleton and Nick Kwiatkoski at linebacker, Carl Nassib on the edge, Damarious Randall, Lamarcus Joyner and Jeff Heath at safety and of course a running partner for Hurst at DT in Maliek Collins.
This new look defense is going to look a lot different in 2020 compared to last year, and the uptick in quality will see players like Hurst come into his own and perform to a scintillating level.
---
Shaun Dion Hamilton – LB, Washington Redskins
Another defense that looks significantly better with some key off season acquisitions is in Washington. They already have a stout cast on the defensive line with the likes of Montez Sweat, Jonathan Allen, Da'Ron Payne and Matt Ioannidis, and adding to the secondary in the free agency only strengthens the whole unit. This is without mentioning the prospect of a certain Buckeye edge rusher who could be a Redskin soon too.
At linebacker, however, there is room for an emerging talent. Hamilton has been a bit part player since being drafted by the Skins in the 6th round of the 2018 draft, but last year was graded between Lavonte David and Luke Kuechly when it came to coverage marks. He will, of course have a returning Reuben Foster to compete with, but SDH has a shot of fitting in very nicely with this star studded cast and flying completely under the radar to breakout in 2020.
---
Rock Ya-Sin – CB, Indianapolis Colts
Ya-Sin was drafted last year early in the second round by the Colts to help add to the up and coming young defense that is improving year after year at Lucas Oil Stadium. Although he had a quiet year and didn't produce any magic, he would have certainly learned a lot from veterans Pierre Desir and Kenny Moore.
The Colts added another veteran this off season in the shape of Xavier Rhodes, but again, the experience to gain for Ya-Sin learning the trade from a former pro-bowler will do him the world of good in his journey of progression. With Rhodes turning 30 before the season kicks off and Desir out during the free agency, Rock Ya-Sin has a chance to become a key piece in that growing defense and is a perfect candidate for a 2020 breakout.
---
Adrian Kraus – AP
Ed Oliver – DT, Buffalo Bills
Ok, so Ed Oliver is pretty much a household name already, especially after being drafted as a top-10 prospect just 12 months ago. But, i truly believe 2020 is the year that Ed Oliver takes the step onto the "elite players" plinth. He finished 2019 with 43 tackles, 5 sacks and 2 passes defended, incredibly strong numbers for a rookie interior defensive lineman.
With inferior offensive lines in Miami and New York (Jets), and no more TB12 in New England, Buffalo's defensive line could all be beneficiaries of 6 'weak' games on the calendar in 2020. Look for Ed Oliver to improve on those impressive rookie numbers and potentially escalate himself into the Aaron Donald/Fletcher Cox realm of conversation this time next year.
---
Brian Burns – EDGE, Carolina Panthers
Another first round pick in the 2019 draft was the former Florida State edge rusher. He, like Oliver, had a blistering start to his NFL career where he notched 25 tackles and 7.5 sacks with a forced fumbled added in for good measure.
For me, Carolina are a team that will likely be the wrong end of the win/loss column in 2020, but it is apparent that new HC Matt Rhule wants to start rebuilding this defense first. That starts with Burns and he could find himself the centre of the rebuild alongside whoever Rhule selects in this upcoming draft – i'm sure Panthers' fans would love to see Isaiah Simmons help rebuild the defensive in Carolina if he falls to them with the 7th pick. Look for Burns to quickly become a fan favourite at Bank of America Stadium in 2020 thanks to a breakout season.
---
Offence
---
Nyheim Hines – RB, Indianapolis Colts
Since entering the league as a Colt from the 4th round of the 2018 draft, Hines has quietly sat as the RB2 on the Indy depth chart but made the most of his role as a scat back. His rookie year was impressive as he ticked over 740 all purpose yards (425 through the air) and combined for 4 TD's. Although the stats weren't as good in 2019, a significant down tick in quarterback could be to blame as Jacoby Brissett filled in after the shock retirement of Andrew Luck in the preseason.
As we head into 2020, the Colts' offense will be rebuffed by the signing of Philip Rivers, who knows how to get the best out of his weapons. None more so than a pass-catching running back. He is fresh off a 2019 season which saw Austin Ekeler thrust into relevance (especially in fantasy teams) as he notched 92 receptions for 993 yards including 557 rushing yards and 11 total touchdowns; all whilst Melvin Gordon was the "main back" in town.
Even though Marlon Mack is competent in the passing game, Rivers loves a reliable dump off man out of the backfield. Hines is just that and is poised for a big breakout in 2020. Fantasy dynasty owners, now is your chance to get him on the cheap…
---
Mike Gesicki – TE, Miami Dolphins
The Dolphins rebuild should be well and truly underway in 2020 after their 685-odd upcoming draft picks! Joking aside, there's likely going to be a new QB in town whether it be Tua Tagovailoa or Justin Herbert as the most likely candidates.
Gesicki was a a high draft pick (44th overall) in 2018 but didn't see much of the ball in his rookie season. It was last year when the former Penn State man started to step up and saw 570 receiving yards and 5 TDs. So already Gesicki has had a mini breakout year, because those stats alone for the 2019 Miami Dolphins has to be viewed as impressive given their miserable start.
Gesicki should be a key target and redzone threat for whoever is throwing the rock in Miami next year and could be in for a much larger work load and hopefully productivity too.
---
N'Keal Harry – WR, New England Patriots
If you have listened to a Full 10 Yard podcast with me on it over the last year then you probably know I am not a N'keal Harry fan. I just don't think he's as good as what people think he is. However, one thing is for sure, he is now one of the better offensive weapons in New England, which says a lot about the off-season transactions for Belichick and co.
Edelman will be 34 come week 1 and in his 11th season with the Pats, Gronk is winning WWE titles, Phillip Dorsett has left and Mohamed Sanu is the wrong side of 30 and has only eclipsed 520 receiving yards 4 times in his career. As things stand, Harry is the only player in this offense that can breakout! Providing whoever is throwing the ball in Foxborough wants to utilise the high draft stock the Pats outlaid for Harry, you'd think he'd be a candidate for a 1,000 yards season. I still don't like him, but he is a breakout candidate, can't deny that.
---
Diontae Johnson – WR, Pittsburgh Steelers
Johnson had a great campaign in his 2019 rookie season with 680 yards and 5 TDs. Not bad for a player supposedly battling for the WR3 role at the beginning of the season. And even better when it came off the back of a Big Ben injury which meant he was receiving throws from Devlin Hodges and Mason Rudolph.
Last year Diontae Johnson was everything we were expecting to see from teammate James Washington, and although Washington had more air yards to his name, Johnson looked the most complete receiver out of the the pack if you take out Juju.
Now Big Ben is back under centre, Diontae Johnson could find himself becoming the downfield target for a more accurate and stronger passer of the ball. Juju will likely remain the target hog, and Washington will still likely be viewed as the second option meaning Johnson will see less and less of the main coverage down field. He has a chance to breakout and be apart of re-igniting that electric Steelers' offense of years past.
---
Justin Edmonds – Getty
Noah Fant – TE, Denver Broncos
Fant had a slow start to his NFL career and didn't find himself with over 38 receiving yards in a game until week 9. Although it's not widely expected that rookie tight ends are to be productive in year 1, with a 1st round price tag, you'd have expected a bit more from him I dare say. Fingers could point to shoddy quarterback play though, after all, it was Joe 'Noodle Arm' Flacco and 6th round rookie Brandon Allen attempting to throw the ball around in Denver for the first two thirds of the season.
The last 5 games of the season where Drew Lock took over as signal caller for the Broncos, Fant's numbers went up to average 45 yards per game and a touchdown every other game. As things stand, Fant along with Courtland Sutton are the only real receiving threats on the team. Now, one would assume Denver will be selecting a wide receiver to join them in day 1, if not certainly day 2 of the draft; but Fant will still have the potential to break out this year providing he can claim all of the redzone traffic and continues to capitalise on his big play ability trait.